Films A to Z
Browse
USA | 2012 | 98 minutes | Jeff Howlett, Mark Covino
When their old demo tape is accidentally discovered in an attic, rabid internet attention leads to 1970s Detroit punk band Death's long overdue recognition as the first black punk band and the pioneers of Afro-punk, in this electrifying rockumentary and epic family chronicle.
USA | 2013 | 80 minutes | Alex Stonehill, Bradley Hutchinson
When his name appears in the 9/11 Commission Report, Iraqi immigrant and Seattle resident Sam "Barzan" Malkandi, now considered a threat to national security, is detained and deported by the United States government.


Norway | 2012 | 105 minutes | Hisham Zaman
When his older sister Nermin flees an arranged marriage, Siyar tracks her from Kurdistan to Istanbul where a fateful encounter with a young girl creates cracks in his resolve. A dazzling drama that tackles notions of loyalty, dignity, honor, and love.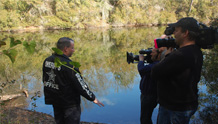 120 minutes |
Join visiting documentary filmmakers for an illuminating discussion on the art of their chosen genre. In this session, we survey the historical development, artistry, and technique of documentary filmmaking, going beyond the broad category of non-fictional film documentation to discover how these filmmakers craft effective cinematic stories.
Sweden | 2013 | 76 minutes | Mia Engberg
Through home movies and spoken memories, director Mia Engberg reconstructs her bohemian love life with a charismatic drug dealer when he wants to reconnect after eight years in prison.
Brazil | 2012 | 80 minutes | Philippe Barcinski
Vicente leads a normal life at home and at work until one loss after another leads him on an erratic journey towards alienation. A quietly ambitious look at the fragility of man's control of his destiny.
USA | 2013 | 83 minutes | Eric Slade, Stephen Silha
Reel NW Award presented by KCTS 9
This vibrant and joyful documentary chronicles the life of experimental filmmaker, poet, and queer activist James Broughton from the mid-century San Francisco Renaissance to his death in 1999.
USA | 2012 | 100 minutes | Drew DeNicola
An extraordinary portrait of legendary Memphis-based band Big Star with never-before-seen footage, rousing musical tributes, and in-depth interviews with members of the band and the musicians they've inspired.
Sweden | 2012 | 97 minutes | Andreas Öhman
In order to save face after missing her flight to New York, Swedish high school graduate Kristin concocts a scheme to write about her "travels" from the safety of a friend's country house in this heart-warming, humor-infused drama.


Canada | 2012 | 106 minutes | Jason Buxton
Youth Jury Award for Best FutureWave Feature: Special Jury Prize
An alienated teenager's online posturing threat ignites a firestorm of fear in a small community in this disturbing and perceptive look at how our media-fuelled, post- Columbine culture of fear can transform typical teen angst into intimations of murder. Ages 15+