Films A to Z
Browse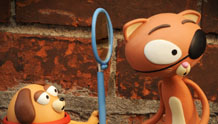 2013 | 87 minutes |
Gather your family around the flickering glow of the big screen for this magical set of animation, live action, and documentary short films the whole family will enjoy.
South Africa | 2013 | 90 minutes | Henk Pretorius
Best Film: SIFF 2013 Golden Space Needle Awards
After Fanie takes Dinky, a strong Zulu woman, to his Afrikaans family wedding, the two find an unexpectedly fun cross-cultural romance. But in order to marry Dinky, Fanie must negotiate to pay Lobola (a South African dowry).


USA | 2012 | 98 minutes | Brad Bernstein
A smattering of 20th century history and original animation illuminate the story of Tomi Ungerer, whose children's books, provocative political art, and erotica are all served with a dose of dark humor, hilarious frankness, and memories of Nazi occupation.
South Korea | 2012 | 103 minutes | Lee Don-ku
This hard-hitting South Korean drama centers on a 28-year-old man who, ten years earlier, participated in a violent act against a classmate. Attempting to seek forgiveness without confessing his role in her adolescent trauma, guilty Sung-gong forms a relationship with his victim, with unexpected consequences.


USA | 2013 | 100 minutes | Neil Breen
David Lynch meets Tommy Wiseau's The Room in director/writer/star Neil Breen's unexpected mash-up of relationship drama and paranormal-political thriller, creating a genre-defying outsider production that just may be the next cult classic.
Belgium | 2012 | 93 minutes | Jessica Woodworth, Peter Brosens
This chilling contemporary fable draws on traditional peasant folklore to chronicle what happens when Mother Nature turns her back on a small Ardennes village and refuses to let winter give way to spring.


India | 2012 | 117 minutes | Nitin Kakkar
In this optimistic comedy, Sunny, an irrepressible Indian wannabe-actor, is mistaken for an American and kidnapped by Pakistani terrorists. Discovering his captors share his love for Bollywood, Sunny finds that cinema is his best escape route.


Canada | 2012 | 75 minutes | Jonah Bekhor, Zach Math
Join Sigurdur "Siggi" Hjartarson, founder and head of the Icelandic Phallological Museum, on his quest to find a donor of the final member that will complete his collection: the human penis.


USA | 2013 | 57 minutes | Chris Towey, Leah Warshawski
Hillywood, the Rwandan film industry, is given the spotlight in this affectionate portrait featuring the filmmaking community, the blossoming film festival culture, and the joy of the people as they experience Rwandan cinema on the big screen.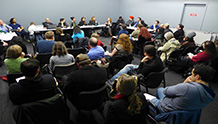 180 minutes |
6:30-9:30pm (Film Center Theater)
$5 - General Audience, Free - SIFF Members
First Draft centers on a table reading of a script in development with professional actors, followed by audience feedback and a networking reception. The First Draft screenwriting workshop series gives local writers an exciting chance to stage live readings of their work with professional actors. Film fans also have the opportunity, along with industry professionals, to offer immediate and constructive criticism.