Films A to Z
Browse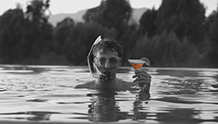 USA | 2012 | 109 Minutes | Joss Whedon
Director Joss Whedon and cast members Alexis Denisof, Amy Acker, Nathan Fillion, and Clark Gregg scheduled to attend – May 16
Start the Festival in style with the SIFF 2013 Opening Night Gala! The evening features the Seattle premiere of Much Ado About Nothing, with director Joss Whedon and cast members Alexis Denisof, Amy Acker, Nathan Fillion, and Clark Gregg scheduled to attend. After the film, celebrate with SIFF at our legendary gala party, featuring hors d'oeuvres, desserts, complimentary cocktails, and dancing!
Spain | 2012 | 100 minutes | Imanol Uribe
A chilling political thriller from acclaimed director Imanol Uribe. Set in the 1950s, it follows Enrique, a conflicted stenographer for a fascist judge who struggles with morality, loyalty, and which side to be on when he witnesses the execution of his mother's doctor.


USA | 2013 | 47 minutes | Daniel Torok
A documentary on Seattle's underground hip-hop scene featuring interviews and concert footage taken from all over the U.S., Daniel Torok covers the triumphs, failures, and stereotypes of Seattle hip-hop artists.


Belgium | 2012 | 111 minutes | Joachim Lafosse
With a story ripped from the headlines and a gut-wrenching performance from Emilie Dequenne, Belgium's Academy Award® submission offers an intimate look at one family's devastating spiral towards tragedy.


USA | 2013 | 85 minutes | Penny Lane
SIFF 2013 Best Documentary: Grand Jury Prize
This all-archival documentary, constructed from Super8 footage shot by three White House aides (Watergate conspirators Ehrlichman, Haldeman, and Chapin), creates an intimate and complex portrait of the Nixon presidency, as it has never been seen before.


Israel | 2012 | 96 minutes | Michael Mayer
When closeted gay Palestinian student Nimr falls in love with Roy, an out Israeli lawyer, their relationship is tested by the politically fraught turmoil of their respective homelands.


USA | 2012 | 55 minutes | Vivienne Roumani
Narrated by Meryl Streep and featuring interviews with Scott Turow, the late Ray Bradbury, Amazon.com founder and CEO Jeff Bezos, and more, this is an in-depth look at the turbulent, exciting journey from the printed book through the digital revolution and modern information age.