Films A to Z
Browse
USA | 2013 | 85 minutes | Matthew Watts
Mutual Friends follows the romantic entanglements of young New Yorkers in love as complications ensue at a surprise party over fancy cocktails, individual bags of chips, and an unusual cake.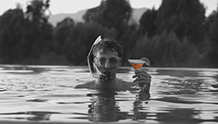 USA | 2012 | 109 Minutes | Joss Whedon
Director Joss Whedon and cast members Alexis Denisof, Amy Acker, Nathan Fillion, and Clark Gregg scheduled to attend – May 16
Start the Festival in style with the SIFF 2013 Opening Night Gala! The evening features the Seattle premiere of Much Ado About Nothing, with director Joss Whedon and cast members Alexis Denisof, Amy Acker, Nathan Fillion, and Clark Gregg scheduled to attend. After the film, celebrate with SIFF at our legendary gala party, featuring hors d'oeuvres, desserts, complimentary cocktails, and dancing!
USA | 2013 | 47 minutes | Daniel Torok
A documentary on Seattle's underground hip-hop scene featuring interviews and concert footage taken from all over the U.S., Daniel Torok covers the triumphs, failures, and stereotypes of Seattle hip-hop artists.


USA | 2013 | 85 minutes | Penny Lane
SIFF 2013 Best Documentary: Grand Jury Prize
This all-archival documentary, constructed from Super8 footage shot by three White House aides (Watergate conspirators Ehrlichman, Haldeman, and Chapin), creates an intimate and complex portrait of the Nixon presidency, as it has never been seen before.


Israel | 2012 | 96 minutes | Michael Mayer
When closeted gay Palestinian student Nimr falls in love with Roy, an out Israeli lawyer, their relationship is tested by the politically fraught turmoil of their respective homelands.


USA | 2012 | 55 minutes | Vivienne Roumani
Narrated by Meryl Streep and featuring interviews with Scott Turow, the late Ray Bradbury, Amazon.com founder and CEO Jeff Bezos, and more, this is an in-depth look at the turbulent, exciting journey from the printed book through the digital revolution and modern information age.
USA | 1974 | 92 minutes | Saul Bass
In this visionary piece of '70s cinematic science fiction, the only feature-length film directed by the legendary Oscar®-winning graphic designer Saul Bass, two scientists wage a war against a rapidly evolving ant colony. Presented in collaboration with the Academy of Motion Picture Arts and Sciences.
USA | 2013 | 80 minutes | Yen Tan
The parallel stories of two gay men are told in this exploration of the complex and often overlooked lives of gay men in small-town, rural America.
USA | 2013 | 94 minutes | David Gordon Green
Stern, meditative Alvin (Paul Rudd) and his girlfriend's insecure brother, Lance (Emile Hirsch), spend the summer together repainting traffic lines on country highway in this exquisitely crafted existential odd-couple comedy, a true return for David Gordon Green to the style of his early indie films George Washington and All the Real Girls.


USA | 2013 | 80 minutes | Sini Anderson
Lena Sharpe Award for Persistence of Vision presented by Women in Film/Seattle
Feminism, punk music, and rare archival footage slam together in this blazing history of riot grrrl pioneer Kathleen Hanna (Bikini Kill, Le Tigre), featuring interviews including Joan Jett and Adam "Ad-Rock" Horovitz.