Films A to Z
Browse
USA | 2013 | 83 minutes | Eric Slade, Stephen Silha
Reel NW Award presented by KCTS 9
This vibrant and joyful documentary chronicles the life of experimental filmmaker, poet, and queer activist James Broughton from the mid-century San Francisco Renaissance to his death in 1999.
Philippines | 2012 | 110 minutes | Jun Robles Lana
One of the year's most charming surprises, this life-affirming comic drama stars veteran Filipino superstar Eddie Garcia as Rene, an elderly, hilariously cantankerous gay man coming out of his shell late in life.


USA | 2013 | 87 minutes | Kyle Patrick Alvarez
SIFF 2013 Best New American Cinema: Grand Jury Prize
This first film adaptation of David Sedaris' work is a funny and poignant portrait of a lost soul and the amusing characters he meets as he pursues his Steinbeckian dream—to spend his summer working on an apple farm in Oregon.


USA | 2013 | 93 minutes | Stacie Passon
Abby is a forty-something, wealthy, lesbian housewife whose pent-up libido is unleashed after getting smacked in the head by a baseball. She embarks on a double life as a high-end prostitute in this sensual and delicious observation of a midlife crisis.


USA | 2013 | 85 minutes | Alan Brown
A coming out tale of an extraordinarily gifted young dancer recently arrived in New York City (Ryan Steele, Broadway's Newsies, West Side Story, and 2013 multi-Tony Nominee Matilda), Five Dances is a visually sensual glimpse of life and first love in New York's downtown contemporary dance world.


Germany | 2013 | 100 minutes | Stephan Lacant
Marc, an expectant father and police officer, loses control of his seemingly perfect life when he develops romantic feelings for Kay, another man in his police unit. When Kay suddenly disappears, Marc's world capsizes.


USA | 2013 | 94 minutes | Darren Stein
Gay-La Film & Party | Party at Q Capitol Hill follows the screening – Jun 5
The battle among a school's popular girls takes a turn when they embark on a search to find the first gay student in order to stay in vogue in this comic send-up of high school clique culture.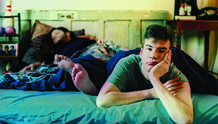 2013 | 83 minutes |
From life in a possible future to the issues being faced here and now, staying in the closet is not an option for the men in these intriguing and touching stories.
USA | 2013 | 90 minutes | Gary Entin
With nobody to turn to but each other, a group of repressed gay teens form an after-school club in this adaptation of the cherished 2003 young adult novel by Seattle-based author Brent Hartinger. Ages 13+


Poland | 2013 | 101 minutes | Malgoska Szumowska
The magnetic Andrzej Chyra (Decalogue IV, Katyn) plays Father Adam, a lonely but loving and kind priest in the Polish countryside struggling with his sexuality in this artfully rendered, unpredictable, and emotional film.