Films A to Z
Browse
Paraguay | 2012 | 105 minutes | Juan Carlos Maneglia, Tana Schémbori
A teenage delivery boy working in an illegal Paraguayan market must dodge thieves, rival gangs, and the police when he is offered $100 to transport a load of mysterious-and highly sought-after-crates to the edge of town. Ages 15+


South Africa | 2012 | 89 minutes | Bryan Little
A survey of the extraordinary street dance styles across South Africa, director Bryan Little's award-winning documentary drills deeper into the philosophy of the dancer's self-expression and, especially, the souls of two extraordinary young performers. Ages 13+


Spain | 2012 | 86 minutes | Paco R. Baños
In this delightfully quirky coming-of-age comedy, 18-year-old Ali is afraid of driving and of falling in love, which gets complicated when Julio comes on the scene. Ages 13+


Canada | 2012 | 106 minutes | Jason Buxton
Youth Jury Award for Best FutureWave Feature: Special Jury Prize
An alienated teenager's online posturing threat ignites a firestorm of fear in a small community in this disturbing and perceptive look at how our media-fuelled, post- Columbine culture of fear can transform typical teen angst into intimations of murder. Ages 15+


Belgium, United Kingdom, North Korea | 2012 | 83 minutes | Anja Daelemans, Nicholas Bonner, Gwang Hun Kim
The first Western-financed fiction feature made entirely in North Korea, Comrade Kim Goes Flying is the winning story of a young female coal miner who dreams of becoming a trapeze artist.


USA | 2013 | 90 minutes | Chris Wedge
A teenager finds herself aligned with a rag-tag group of characters in a battle deep in the forest between the forces of good and evil in this 3D fantasy adventure based on William Joyce's children's book The Leaf Men and the Brave Good Bugs.
France | 2012 | 79 minutes | Benjamin Renner, Stephane Aubier, Vincent Patar
Youth Jury Award for Best Films4Families Feature: Grand Jury Prize
Little mice are taught to be afraid of bears, but when little Celestine's dreams of meeting one is realized, the shabby Ernest proves to be the best friend an open-minded mouse could ask for. In French with English subtitles. All ages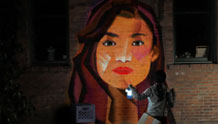 2013 | 90 minutes |
SIFF is proud to present FutureWave Shorts 2013, a program of new films created by filmmakers younger than 19 years old who talents celebrate the creative possibilities of the art form. This year we are also showcasing a selection of the best films from the National Film Festival for Talented Youth.
USA | 2013 | 94 minutes | Darren Stein
Gay-La Film & Party | Party at Q Capitol Hill follows the screening – Jun 5
The battle among a school's popular girls takes a turn when they embark on a search to find the first gay student in order to stay in vogue in this comic send-up of high school clique culture.
USA | 2013 | 90 minutes | Gary Entin
With nobody to turn to but each other, a group of repressed gay teens form an after-school club in this adaptation of the cherished 2003 young adult novel by Seattle-based author Brent Hartinger. Ages 13+