Films A to Z
Browse Creative Streak
2012 | 55 minutes |
Inspired by works of art created by one of the 2012 Artist Trust Fellows, our four Fly Filmmakers (Ben Andrews, Amy Enser, Lulu Gargiulo, and Curtis Taylor) rose to the challenge with original films that were shot in neighborhoods across Seattle.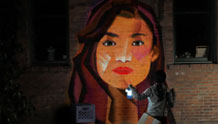 2013 | 90 minutes |
SIFF is proud to present FutureWave Shorts 2013, a program of new films created by filmmakers younger than 19 years old who talents celebrate the creative possibilities of the art form. This year we are also showcasing a selection of the best films from the National Film Festival for Talented Youth.
USA | 2013 | 70 minutes | Karen Whitehead
Starting in the 1960s, revered rock music photographer Jini Dellaccio created startling and artistic portraits for bands like The Sonics and The Wailers, rejecting the boring five-member line-up and producing iconic album covers. She's now 96, living in Seattle, and as cool as ever. World Premiere
Denmark | 2012 | 83 minutes | Andreas M. Dalsgaard
Danish architect Jan Gehl examines the true cost of the "megacity"—gleaming and highly populated urban sprawls he believes have pushed us further and further away from honest human interaction.
USA | 2013 | 98 minutes | Dayna Hanson
A hybrid narrative film with doses of mockumentary, musical comedy, and dance tracing a rag-tag Seattle performance group's attempt to expose the American Revolution's fatal flaws. Loosely based on the making of director Dayna Hanson's real-life performance, "Gloria's Cause," this film is gorgeously shot by award-winning local cinematographer Ben Kasulke.


India | 1948 | 160 minutes | Uday Shankar
An unsung gem upon its 1948 release, this black-and-white Indian ballet stars writer/director Uday Shankar (brother of Ravi Shankar) as a dance academy proprietor torn between two women. Stunning restoration by the World Cinema Foundation at Cineteca di Bologna/L'Immagine Ritrovata.
USA | 2013 | 85 minutes | Matthew Perkins
Tired of being overlooked for bigger roles, a struggling dwarf actor sets out to be cast as the Tin Man in Martin Scorsese's interpretation of The Wizard of Oz. World Premiere
Germany | 2012 | 95 minutes | Stephan Schesch
With touches of A Cat in Paris and the films of Sylvain Chomet (The Illusionist, The Triplets of Belleville), and based on a book by Tomi Ungerer, this man in the moon will delight all ages.


USA | 2012 | 55 minutes | Vivienne Roumani
Narrated by Meryl Streep and featuring interviews with Scott Turow, the late Ray Bradbury, Amazon.com founder and CEO Jeff Bezos, and more, this is an in-depth look at the turbulent, exciting journey from the printed book through the digital revolution and modern information age.
United Kingdom | 2012 | 134 minutes | Sophie Fiennes
This film is the fun philosophy course you wish you could have taken in college—loaded with clips from classic films, and starring sly philosophical provocateur Slavoj Zizek.