Films A to Z
Browse Make Me Laugh!
USA | 2013 | 108 minutes | Jill Soloway
An attractive, privileged stay-at-home mom lives a seemingly idyllic life. But when she strikes up a peculiar friendship with a nubile young stripper, it calls her own staid existence into question, in this funny and moving portrayal of female midlife crisis.


Italy | 2012 | 83 minutes | Pappi Corsicato
After getting into a horrific car accident, a famous television anchor enlists her plastic surgeon husband to shape her into a new image in this hyper-stylized social satire that pays homage to the likes of Wilder and Almodóvar.


Sweden | 2012 | 97 minutes | Andreas Öhman
In order to save face after missing her flight to New York, Swedish high school graduate Kristin concocts a scheme to write about her "travels" from the safety of a friend's country house in this heart-warming, humor-infused drama.


USA | 2013 | 87 minutes | Kyle Patrick Alvarez
SIFF 2013 Best New American Cinema: Grand Jury Prize
This first film adaptation of David Sedaris' work is a funny and poignant portrait of a lost soul and the amusing characters he meets as he pursues his Steinbeckian dream—to spend his summer working on an apple farm in Oregon.


USA | 2013 | 80 minutes | Diane Crespo
Laugh legend Carol Kane (Taxi, Annie Hall) headlines this ensemble comedy as an eccentric matriarch forced to clean up her act, and her obsessive hoarding, when the county health department comes calling.


USA | 2013 | 95 minutes | Joe Swanberg
Saturday Night Film & Party – Jun 8
Barley. Hops. Love? Tensions simmer in a Chicago microbrewery between workers Kate (Olivia Wilde) and Luke (New Girl's Jake Johnson) and their respective partners (Ron Livingston and Up in the Air's Anna Kendrick) in this delightful—and largely improvised—romantic comedy.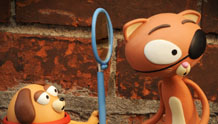 2013 | 87 minutes |
Gather your family around the flickering glow of the big screen for this magical set of animation, live action, and documentary short films the whole family will enjoy.
India | 2012 | 117 minutes | Nitin Kakkar
In this optimistic comedy, Sunny, an irrepressible Indian wannabe-actor, is mistaken for an American and kidnapped by Pakistani terrorists. Discovering his captors share his love for Bollywood, Sunny finds that cinema is his best escape route.


Canada | 2012 | 75 minutes | Jonah Bekhor, Zach Math
Join Sigurdur "Siggi" Hjartarson, founder and head of the Icelandic Phallological Museum, on his quest to find a donor of the final member that will complete his collection: the human penis.


Sweden | 2012 | 96 minutes | Patrik Eklund
In this off-kilter ensemble comedy, a telecom in the town of Backberga is poised to make a long-overdue service upgrade when an accident triggers a power failure, setting off a cascade of bizarre mishaps and missed love connections.