Films A to Z
Browse Make Me Laugh!
USA | 2013 | 85 minutes | Matthew Watts
Mutual Friends follows the romantic entanglements of young New Yorkers in love as complications ensue at a surprise party over fancy cocktails, individual bags of chips, and an unusual cake.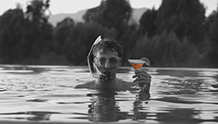 USA | 2012 | 109 Minutes | Joss Whedon
Director Joss Whedon and cast members Alexis Denisof, Amy Acker, Nathan Fillion, and Clark Gregg scheduled to attend – May 16
Start the Festival in style with the SIFF 2013 Opening Night Gala! The evening features the Seattle premiere of Much Ado About Nothing, with director Joss Whedon and cast members Alexis Denisof, Amy Acker, Nathan Fillion, and Clark Gregg scheduled to attend. After the film, celebrate with SIFF at our legendary gala party, featuring hors d'oeuvres, desserts, complimentary cocktails, and dancing!
United Kingdom | 2012 | 105 minutes | Marcus Markou
Kirkland Opening Night | Reception precedes the screening at 6pm. – May 30
In this robust British comedy a Greek Londoner loses it all in the latest economic crash—everything except a derelict fish-and-chip shop, co-owned by his estranged brother. As the family pulls together, the film's charm makes it hard to resist.


France | 2012 | 111 minutes | Régis Roinsard
Saturday Night Film & Party | Party at Il Fornaio with fashion by Oska follows the screening. – May 18
Rose is a terrible secretary but a fantastic typist, so her boss resolves to make her the fastest typist in the world. Set in 1958, this French rom-com combines a Mad Men aesthetic with an I Love Lucy sensibility.


USA | 2013 | 94 minutes | David Gordon Green
Stern, meditative Alvin (Paul Rudd) and his girlfriend's insecure brother, Lance (Emile Hirsch), spend the summer together repainting traffic lines on country highway in this exquisitely crafted existential odd-couple comedy, a true return for David Gordon Green to the style of his early indie films George Washington and All the Real Girls.


USA | 2012 | 88 minutes | Jason Chaet
Walter "Putzel" Himmelstein grew up in his family's smoked fish emporium in Manhattan. He never left home, content to live the rest of his life without leaving the Upper West Side—ever!—that is, until he meets Sally in this bittersweet romantic comedy.


USA | 1923 | 67 minutes | Fred Newmeyer, Sam Taylor
A store clerk (Harold Lloyd) organizes a contest to climb the outside of a 12-story building, and ends up dangling from a skyscraper in this 1923 silent romantic comedy classic. All ages


USA | 2013 | 95 minutes | James Ponsoldt
Youth Jury Award for Best FutureWave Feature: Grand Jury Prize
When good girl Aimee finds party boy Sutter passed out on her lawn, each of them get their worlds rocked in ways that will profoundly affect both of their lives in this sincere and refreshingly unaffected look at teenagers. Smartly adapted from Tim Tharp's best-selling novel. Ages 15+


South Africa | 2013 | 90 minutes | Donovan Marsh
Spud is still marching slowly toward puberty as a sophomore at a South African boarding school. While he's no longer the youngest in school, that's not going to save him from the challenges of growing up. John Cleese returns in this spectacular sequel. Ages 13+


USA | 2013 | 90 minutes | Rebecca Fishman, Thomas Beatty
Andrew, despondent over the death of his mother, and his girlfriend invite their best friends for a desert retreat of emotional healing--via a surprise therapeutic orgy. Once this absurd and troubling request is revealed, their bonds begin to fracture in unexpected and often hilarious ways.