Films A to Z
Browse Thrill Me!
Hong Kong | 2012 | 107 minutes | Roy Chow
In this stylish Hong Kong noir thriller, obsession leads to violence when an ex-con torments the family of the famous musician instrumental in his 20-year incarceration.


Ethiopia | 2013 | 105 minutes | Yidnekachew Shumete Desalegn
Nishan is a young businesswoman who dreams of leaving Ethiopia to seek her fortune abroad. When her father mortgages the house to support her emigration, an unsigned document creates a disastrous domino effect in Desalegn's thrilling debut.


Denmark | 2013 | 100 minutes | Michael Noer
In this compelling neorealist Danish thriller, small-time burglar Casper attempts upward mobility within the Copenhagen crime world, only to ignite a violent turf war.


Serbia | 2012 | 97 minutes | Miroslav Terzic
A post-war thriller set in Belgrade. A young lawyer wants to prove himself with his first important case. Naively he shakes too many skeletons from the post-war closet, exposing himself and his family to danger.


USA | 2012 | 88 minutes | Joey Johnson
A group of Seattleites find their backpacking trip interrupted when one of them turns up dead. Now, they must delve into their collective past and figure out whodunit in this locally shot puzzler.


Australia | 2012 | 95 minutes | Chris Nelius, Justin McMillan
Storm Surfers 3D places you at the very front of the surfboard on the world's craziest waves—found only in extreme conditions in the middle of the ocean—with a pair of legendary big-wave riders, all in unbelievable, heart-stopping, giant-screen 3D.


Ireland | 2012 | 100 minutes | Nick Ryan
Chronicling the 2008 tragedy that claimed 11 adventurers hell-bent on conquering K2, the deadliest mountain in the world, this documentary attempts to answer what happened over those fateful three days utilizing found footage, interviews, and seamlessly realistic reenactments.


China | 2012 | 100 minutes | Stephen Fung
This fantastic sequel to Tai Chi Zero follows the larger-than-life adventures of Yang Luchan, who must use his fiancée's kung fu lessons to protect his family from an invading horde of steampunk soldiers.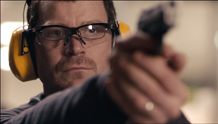 2012 | 88 minutes |
Vigilante justice. Burning battlefield grudges. Robots seeking revenge. As these gripping tales of action-packed, high-stakes drama unfold, just try to hang on to the edge of your seat.


Germany | 2012 | 97 minutes | Georg Maas
A former East German spy in Norway has built a family life around a fake identity. With the fall of the Berlin Wall, her happy existence is threatened in this gripping story of trauma, intrigue, and espionage.