Films A to Z
Browse Show Me the World!
Iraq | 2012 | 79 minutes | Bijan Zmanpira, Nahid Ghobadi
In this charming, satirical road trip movie an Iranian diplomat travels Kurdistan in response to a letter threatening the collective suicide of 111 young women if they are not provided with eligible suitors. Visually stunning with dreamlike reveries and absurd Beckett-esque humor.


France | 2012 | 122 minutes | Yousry Nasrallah
Based on the true story of the horsemen hired by President Mubarak to charge the crowds in Tahrir Square, this vibrant drama captures the personal and political implications of the revolution across Egyptian society.
Spain | 2012 | 86 minutes | Paco R. Baños
In this delightfully quirky coming-of-age comedy, 18-year-old Ali is afraid of driving and of falling in love, which gets complicated when Julio comes on the scene. Ages 13+


Norway | 2012 | 105 minutes | Hisham Zaman
When his older sister Nermin flees an arranged marriage, Siyar tracks her from Kurdistan to Istanbul where a fateful encounter with a young girl creates cracks in his resolve. A dazzling drama that tackles notions of loyalty, dignity, honor, and love.
Brazil | 2012 | 80 minutes | Philippe Barcinski
Vicente leads a normal life at home and at work until one loss after another leads him on an erratic journey towards alienation. A quietly ambitious look at the fragility of man's control of his destiny.
Venezuela | 2012 | 90 minutes | Andrés Rodríguez, Luis Rodríguez
Having suffered her whole life at the hands of her abusive parents, 19-year-old deaf-mute Ana makes a stand, hoping to steal her siblings away in a bid for freedom. Hailed as Venezula's answer to the smash-hit, tear-your-heart-out Precious, brothers Andres and Luis Rodriguez draw on their experiences as social workers to craft this tale of quiet desperation.


Russia | 2012 | 106 minutes | Alexsei Fedorchenko
From Aleksey Fedorchenko, the director of Silent Souls, comes a wholly original, humorous, beautiful folk tale—told in the native tongue of the nature worshipping Mari—about 22 strong independent women whose names all begin with the letter O.
Bosnia-Herzegovina | 2012 | 90 minutes | Aida Begic
A determined young girl struggles to keep her younger brother on the right side of the tracks and out of the hands of social services (and the police) in this heart-wrenching drama set against the war-scarred landscape of Sarajevo.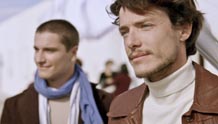 Spain | 2013 | 87 minutes |
Lovers' secret codes, a wondrously surreal recital, and a haunted Brooklyn apartment—come discover the accomplished and eclectic range of work found in Spanish short cinema today.
Iran | 2013 | 106 minutes | Jafar Panahi, Kamboziya Partovi
Acclaimed Iranian director Jafar Panahi- banned from filmmaking for "anti-government propaganda"-explores his own experience of house arrest in this engrossing, fictional drama about life and art in political hiding.