Films A to Z
Browse
Belgium | 2012 | 93 minutes | Jessica Woodworth, Peter Brosens
This chilling contemporary fable draws on traditional peasant folklore to chronicle what happens when Mother Nature turns her back on a small Ardennes village and refuses to let winter give way to spring.


India | 2012 | 117 minutes | Nitin Kakkar
In this optimistic comedy, Sunny, an irrepressible Indian wannabe-actor, is mistaken for an American and kidnapped by Pakistani terrorists. Discovering his captors share his love for Bollywood, Sunny finds that cinema is his best escape route.


Canada | 2012 | 75 minutes | Jonah Bekhor, Zach Math
Join Sigurdur "Siggi" Hjartarson, founder and head of the Icelandic Phallological Museum, on his quest to find a donor of the final member that will complete his collection: the human penis.


USA | 2013 | 57 minutes | Chris Towey, Leah Warshawski
Hillywood, the Rwandan film industry, is given the spotlight in this affectionate portrait featuring the filmmaking community, the blossoming film festival culture, and the joy of the people as they experience Rwandan cinema on the big screen.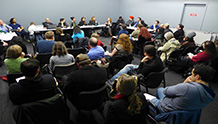 180 minutes |
6:30-9:30pm (Film Center Theater)
$5 - General Audience, Free - SIFF Members
First Draft centers on a table reading of a script in development with professional actors, followed by audience feedback and a networking reception. The First Draft screenwriting workshop series gives local writers an exciting chance to stage live readings of their work with professional actors. Film fans also have the opportunity, along with industry professionals, to offer immediate and constructive criticism.
USA | 2013 | 85 minutes | Alan Brown
A coming out tale of an extraordinarily gifted young dancer recently arrived in New York City (Ryan Steele, Broadway's Newsies, West Side Story, and 2013 multi-Tony Nominee Matilda), Five Dances is a visually sensual glimpse of life and first love in New York's downtown contemporary dance world.


Sweden | 2012 | 96 minutes | Patrik Eklund
In this off-kilter ensemble comedy, a telecom in the town of Backberga is poised to make a long-overdue service upgrade when an accident triggers a power failure, setting off a cascade of bizarre mishaps and missed love connections.


France | 2012 | 180 minutes | Jan Kounen
This stylish, globetrotting psychological thriller plays like David Fincher's The Girl With The Dragon Tattoo mixed with the amnesiac, wrong man madness of Christopher Nolan's Memento to create a tale of diamonds, dames, and killer storks.


2012 | 55 minutes |
Inspired by works of art created by one of the 2012 Artist Trust Fellows, our four Fly Filmmakers (Ben Andrews, Amy Enser, Lulu Gargiulo, and Curtis Taylor) rose to the challenge with original films that were shot in neighborhoods across Seattle.


Switzerland | 2012 | 96 minutes | Barbara Miller
Despite constant resistance, influential cyber feminists from Cuba, China, and Iran keep blogging about abuses in their countries. Yoani Sánchez, Zeng Jinyan, and Farnaz Seifi courageously write about political issues under increasing scrutiny from their governments and at the risk of their own lives.