Films A to Z
Browse
USA | 2013 | 96 minutes | Andrew Mudge
When Atang returns to Lesotho to bury his father, he falls in love with his childhood friend Dineo and reconnects with the mystic landscape and hardships of village life he left behind.
USA | 2012 | 86 minutes | Noah Baumbach
Frances, a post-college aspiring dancer, struggles after her best friend falls in love and moves out. In the vein of television's Girls, Noah Baumbach (The Squid and the Whale) treats his characters candidly but lovingly, as they work to become adults in Brooklyn.


Germany | 2013 | 100 minutes | Stephan Lacant
Marc, an expectant father and police officer, loses control of his seemingly perfect life when he develops romantic feelings for Kay, another man in his police unit. When Kay suddenly disappears, Marc's world capsizes.


Canada | 2012 | 96 minutes | Yung Chang
Environmental docs come in all shapes and sizes, but you haven't seen any as appetizing as this sensual, seductive tribute to nature's sweetest bounty. Narrated by and featuring Bill Pullman.


Norway | 2012 | 100 minutes | Øystein Karlsen
When his buddy fatally crashes his car into a moose, the titular Jack must recover two and a half kilos of cocaine before it's too late in this darkly comic Norwegian crime caper.


China | 2012 | 104 minutes | Zhang Yang
A group of irrepressible senior citizens living in a nursing home in China experience renewed, youthful energy when they decide to compete in a televised acting and variety show competition.
USA | 2013 | 80 minutes | Amy Finkel
Domesticated animals are a vital part of the American family unit, but what happens after they die? Join animal owners, psychologists, and veterinarians as they discuss topics of mortality, grief, and freeze-dried pets.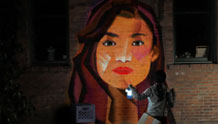 2013 | 90 minutes |
SIFF is proud to present FutureWave Shorts 2013, a program of new films created by filmmakers younger than 19 years old who talents celebrate the creative possibilities of the art form. This year we are also showcasing a selection of the best films from the National Film Festival for Talented Youth.
USA | 2013 | 94 minutes | Darren Stein
Gay-La Film & Party | Party at Q Capitol Hill follows the screening – Jun 5
The battle among a school's popular girls takes a turn when they embark on a search to find the first gay student in order to stay in vogue in this comic send-up of high school clique culture.
Italy | 2012 | 108 minutes | Silvio Soldini
A sophisticated comedy casting a critical eye on contemporary Italy through the eyes of a working-class widower struggling to raise two daughters. While helping them out of a mischievous situation, he meets and falls in love with a budding artist.