Films A to Z
Browse
Czech Republic | 2012 | 106 minutes | David Ondricek
Set in Cold War Prague as the Soviets tightened their grip on Czechoslovakia, this suspenseful noir crime drama follows an honest cop whose jewelry heist investigation is taken over by State Security. Czech Oscar® submission.
Canada (Québec) | 2012 | 101 minutes | Anaïs Barbeau-Lavalette
A Québec doctor discovers the heartbreaking absurdity of life in Israel's divided West Bank in this intense, politically charged drama from the producers of the Academy Award® nominated Incendies and Monsieur Lazhar.
USA | 2013 | 100 minutes | Jacob Kornbluth
An Inconvenient Truth for the economy, this Sundance award-winning film introduces former Secretary of Labor Robert Reich as an inspirational and humorous guide in exploring the causes and consequences of the widening income gap in America.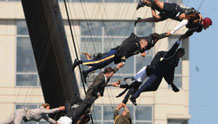 120 minutes |
1:00 - 3:00pm (Film Center Theater)

$10 - General audience $5 - SIFF / SAG/AFTRA Members
This forum gives the audience an inside look into the world of stunt men and women. Stunt people and filmmakers will offer engaging insights about industry standards, groundbreaking stunt artists, and local resources for budding stunt heroes.
Sponsor: SAG/AFTRA
USA | 2013 | 60 minutes | James Franco, Travis Mathews
James Franco partners with gay film director Travis Mathews to recreate the sexually explicit scenes cut from the controversial 1980 film Cruising, an experiment that uses filmmaking to break down the barriers between straight and queer worlds.
Spain | 2012 | 98 minutes | Daniel Calparsoro
Returned from Iraq, a soldier's fragmented memories of his injuries don't match the official story. He seeks out the truth that others do not want disclosed in this visceral political thriller.


Italy | 1970 | 112 minutes | Elio Petri
A Roman police inspector kills his mistress and then purposely leaves clues to see if he'll be charged for the crime, in this 1970 Italian crime drama directed by Elio Petri and scored by the legendary Ennio Morricone. Stunning 4k Digital Restoration.


Netherlands | 2013 | 94 minutes | Nanouk Leopold
This subtle portrait of rural loneliness tells the story of a middle-aged farmer's quest to cast off the shackles of closeted emotional repression he's worn all his life, featuring the last screen performance of the renowned Dutch actor Jeroen Willems.


Turkey | 2012 | 122 minutes | Reha Erdem
SIFF 2011 Emerging Master Reha Erdem returns to the Festival with this vivid and visually stunning depiction of a teenage Kurdish freedom fighter trekking the Turkish mountains after laying down her arms.
Ireland | 2012 | 88 minutes | Kieron J. Walsh
A fateful New Year's Eve throws half a dozen characters into collision in this complex, wildly inventive and occasionally giddy tale from Northern Ireland. Does Jump refer to potential suicide or playing with chronological narrative?