Films A to Z
Browse
France | 2012 | 110 minutes | Claude Miller
Audrey Tautou stars as a depressed suburban housewife whose desire for culture and freedom takes a violent turn in this tense drama based on François Mauriac's acclaimed and provocative 1927 novel.


Pakistan | 2012 | 75 minutes | Bassam Tariq, Omar Mullick
The Edhi foundation, founded by humanitarian Abdul Sattar Edhi, gets the documentary treatment in this ethereal and inspirational story of resilience about a runaway child and an ambulance driver in Karachi, Pakistan. The film recently won the Filmmaker-to-Filmmaker Award at the Hot Docs Festival, and directors Omar Mullick and Bassam Tariq were featured in Filmmaker Magazine's "The 25 New Faces of Independent Film."


USA | 2013 | 83 minutes | Chad Hartigan
Seattle actor Paul Eenhoorn delivers a stunning performance in this deceptively simple and surprisingly optimistic story of a lonely man who gets a job helping ex-cons transition to civilian life. Winner of the Audience Award for Best of NEXT at Sundance.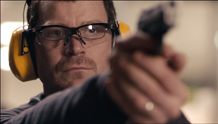 2012 | 88 minutes |
Vigilante justice. Burning battlefield grudges. Robots seeking revenge. As these gripping tales of action-packed, high-stakes drama unfold, just try to hang on to the edge of your seat.


Germany | 2012 | 76 minutes | Helena Ahonen, Max Andersson
This surreal, partially animated documentary follows two Swedish comic book artists on a road trip through the former Yugoslavia with the mummified remains of Marshal Tito. Their goal: promote their book Bosnian Flat Dog, published by Seattle's own Fantagraphics Books.
Taiwan | 2012 | 114 minutes | Hsu Chao-Jen
In this Amelie-esque romantic drama from Taiwan, 17-year-old high schooler Xiao Yang clandestinely attempts to cure his family and friends of their romantic and professional woes.
USA | 2013 | 88 minutes | Lynn Shelton
A massage therapist is stricken with a sudden aversion to bodily contact while her emotionally distant brother finds he can give his dental patients a healing touch, in this amusing exploration surrounding the foibles of human nature.


USA | 2013 | 74 minutes | Jamila Wignot, Sierra Pettengill
Impartial but politically volatile, Town Hall follows two years in the lives of Central Pennsylvania citizens Katy and John, two Tea Party activists determined to restore the United States to its former glory.


USA | 2013 | 92 minutes | Bill Siegel
Brash boxer Cassius Clay (aka Muhammad Ali) burst into the American consciousness in the early 1960s, just ahead of the Civil Rights movement. This film reveals the perfect storm of race, religion, and politics that shaped one of the most recognizable figures in sports history.


USA | 2013 | 90 minutes | Morgan Neville
Best Documentary: SIFF 2013 Golden Space Needle Awards
A breakout audience favorite at Sundance, Twenty Feet from Stardom follows several gifted backup singers living in the shadows of superstardom. Their work charted the rise of the modern pop vocal sound from the gospel tradition to the more impassioned sounds of the turbulent '60s. Special guests Tata Vega and Merry Clayton will each perform a song following the movie (Centerpiece Gala screening only)!