Films A to Z
Browse
Turkey | 2012 | 100 minutes | Pelin Esmer
Haunted by his past, a fire warden in the Turkish mountains is inexorably drawn towards a young woman with a mysterious secret of her own.


USA | 2013 | 103 minutes | Jim Rash, Nat Faxon
With an all-star cast including Steve Carell, Toni Collette, Allison Janney, Sam Rockwell, and Maya Rudolph, this uproarious comedy centers on the funny and sometimes painful summer vacation of an awkward 14-year-old and his dysfunctional family. Written and directed by Nat Faxon and Jim Rash, the Oscar®-winning writers of The Descendants.
USA | 2013 | 130 minutes | Alex Gibney
Oscar®-winning documentarian Alex Gibney presents the gripping story of the rise and fall of whistleblowing website WikiLeaks, its mysterious and charismatic founder Julian Assange, and U.S. Army Private Bradley Manning, the man responsible for the largest leak of classified documents ever released to the public.


USA | 2012 | 93 minutes | David Siegel, Scott McGehee
Precocious six-year-old Maisie develops an understanding of emotional warfare, as her self-absorbed parents (Julianne Moore and Steve Coogan) use her as ammunition against each other during their divorce and subsequent remarriages. A modern New York City version of Henry James's 1897 novel.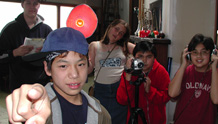 120 minutes |
2:00pm-4:00pm (Film Center Classroom)
$10 - General Audience $5 - SIFF / SAG/AFTRA Members
Ever wonder why some films have a style all their own? In this workshop young actors and directors will review different filmmaking styles and learn how to ensure a scene captures a clear and distinctive vision.
Taiwan | 2012 | 85 minutes | Hou Chi-Jan
Tung (Taiwanese heartthrob Kai Ko) works at a copy shop and is bored of his monotonous life until he discovers a drawing of a sheep on the back of one of his copies, and falls for the dreaming, eccentric girl who drew it.


Palestine | 2012 | 93 minutes | Annemarie Jacir
This charming and compassionate film follows an intrepid Palestinian child's adventures in the wake of the Six Day War, as he stumbles through the woods and into a secret volunteer military training site.


USA | 1928 | 95 minutes | Victor Sjöström
Lillian Gish stars in one of MGM's last silent films. While on a visit to her cousin's ranch, Letty (Gish) is increasingly bothered by both the wind and three relentlessly aggressive suitors. New live score composed and performed by The Maldives.


Australia | 2012 | 89 minutes | Kieran Darcy-Smith
A tropical holiday to Cambodia turns sinister when a friend from the group goes missing and dark secrets begin to emerge. This psychologically complex Australian thriller is anchored by an incredible performance from rising star Joel Edgerton (Zero Dark Thirty).


Japan | 2012 | 117 minutes | Mamoru Hosoda
Mamoru Hosoda exhibits his mastery of understated drama and the subtleties of emotion in this beautifully animated film. Hana's decisions will leave you aching with sweet melancholia. In Japanese with English subtitles. Ages 8+