Films A to Z
Browse
Lebanon | 2012 | 93 minutes | Mahdi Fleifel
Funny, nostalgic, and uniquely engaging, filmmaker Mahdi Fleifel offers an intimate portrait of the Lebanese refugee camp of Ain El Helweh, and how the camp's residents invest the World Cup series with their own ideas of home, community, victory and hope.


USA | 2013 | 93 minutes | Andrew Bowser
Shot entirely with a Gopro Hero 2 mounted to a Snorricam and featuring one seamless edit, Worm is part neo-noir, part experiment, and ultimately a satisfying indie thriller that hooks you from the beginning and doesn't let up until the adrenaline-fueled finale.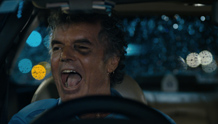 2012 | 82 minutes |
Think you know where you're going? Guess again. These quick flicks pack unexpectedly powerful punches.
USA | 2012 | 105 minutes | Nick Cassavetes
This visually dazzling head-trip from director Nick Cassavetes features Inception-esque dream sequences and some of the most elaborate mindscapes since Eternal Sunshine of the Spotless Mind. Starring Gena Rowlands, Ray Liotta, and Sienna Miller.
Spain | 2013 | 108 minutes | Isabelle Coixet
In the vein of Alfonso Cuaron's dystopic masterpiece, Children of Men, legendary Spanish auteur Isabel Coixet (Elegy, The Secret Life of Words) visits a near future Barcelona ravished by a devastating financial crisis. NORTH AMERICAN PREMIERE


France | 2012 | 102 minutes | Gilles Legrand
Instead of grooming his son to inherit his lucrative wine-growing business, an imperious vintner (Niels Arestrup) looks to a talented California-based grower, rendering a harvest of jealousy and worse with Shakespearean undertones.
France | 2012 | 75 minutes | Justine Malle
From the daughter of legendary French auteur Louis Malle, this debut weaves an autobiographical account of her father succumbing to a fatal disease just as she is finding love at the age of 20.
United Kingdom | 2012 | 117 minutes | Eran Riklis
A captured Israeli fighter pilot pairs with a Palestinian boy to escape war-torn Beirut in 1982. Traveling with an olive tree sapling, they discover some humanity within the hostility.