Films A to Z
Browse
Spain | 2012 | 105 minutes | Fernando Trueba
In the summer of 1943, an aging sculptor (the legendary Jean Rochefort) in occupied France experiences a creative rebirth when a young Spanish refugee becomes his muse. Nominated for 13 Goya Awards.
Spain | 2012 | 116 minutes | Eduard Cortés
Set in Franco-controlled 1955 Spain, this colorful and freewheeling true-life heist thriller follows a bevy of agents, criminals, and police officers in their attempts to get their hands on Eva Perón's famed jewels.


Lebanon | 2012 | 102 minutes | Ziad Doueiri
The life of a happily married Israeli-Arab physician is upended by a suicide bombing in this powerful psychological thriller based on Yasmina Khadra's internationally acclaimed novel.


France | 2012 | 102 minutes | Alice Winocour
Set in Belle Epoque France, Augustine tells the true-life tale of a pioneering 19th century neurologist and the precocious teenage patient whose "hysteria" becomes the star attraction of his practice.


USA | 2012 | 98 minutes | Jeff Howlett, Mark Covino
When their old demo tape is accidentally discovered in an attic, rabid internet attention leads to 1970s Detroit punk band Death's long overdue recognition as the first black punk band and the pioneers of Afro-punk, in this electrifying rockumentary and epic family chronicle.
USA | 2013 | 80 minutes | Alex Stonehill, Bradley Hutchinson
When his name appears in the 9/11 Commission Report, Iraqi immigrant and Seattle resident Sam "Barzan" Malkandi, now considered a threat to national security, is detained and deported by the United States government.


Norway | 2012 | 105 minutes | Hisham Zaman
When his older sister Nermin flees an arranged marriage, Siyar tracks her from Kurdistan to Istanbul where a fateful encounter with a young girl creates cracks in his resolve. A dazzling drama that tackles notions of loyalty, dignity, honor, and love.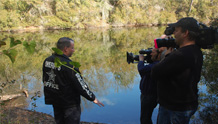 120 minutes |
Join visiting documentary filmmakers for an illuminating discussion on the art of their chosen genre. In this session, we survey the historical development, artistry, and technique of documentary filmmaking, going beyond the broad category of non-fictional film documentation to discover how these filmmakers craft effective cinematic stories.
Sweden | 2013 | 76 minutes | Mia Engberg
Through home movies and spoken memories, director Mia Engberg reconstructs her bohemian love life with a charismatic drug dealer when he wants to reconnect after eight years in prison.
Brazil | 2012 | 80 minutes | Philippe Barcinski
Vicente leads a normal life at home and at work until one loss after another leads him on an erratic journey towards alienation. A quietly ambitious look at the fragility of man's control of his destiny.