Films A to Z
Browse Alternate Cinema
Thailand | 2012 | 68 minutes | Nawapol Thamrongrattanarit
When her hard drive breaks, taking with it a year's worth of work, film location scout Sai sets out to recapture the missing photos and memories of an unrequited love. Told entirely over 36 static shots.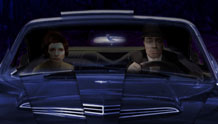 87 minutes |
Strange animations, cinematic explorations, and some formal experiments that work on a purely emotional level.


Sweden | 2013 | 76 minutes | Mia Engberg
Through home movies and spoken memories, director Mia Engberg reconstructs her bohemian love life with a charismatic drug dealer when he wants to reconnect after eight years in prison.
USA | 2012 | 73 minutes | Abigail Child
Shot with a 16mm camera and cast without professional actors, this intimate portrayal is an imaginary home movie about nineteenth-century poet Percy Shelley and his wife, the novelist and author of Frankenstein, Mary Shelley.
Germany | 2012 | 76 minutes | Helena Ahonen, Max Andersson
This surreal, partially animated documentary follows two Swedish comic book artists on a road trip through the former Yugoslavia with the mummified remains of Marshal Tito. Their goal: promote their book Bosnian Flat Dog, published by Seattle's own Fantagraphics Books.
USA | 1990 | 94 minutes | David Lynch
The body of a young girl (Laura Palmer) is washed up on a beach near the small Washington state town of Twin Peaks. FBI Special Agent Dale Cooper is called in to investigate her strange demise only to uncover a web of mystery that ultimately leads him deep into the heart of the surrounding woodland and his very own soul.