Films A to Z
Browse Ambiente: New Spanish Cinema
Spain | 2012 | 86 minutes | Paco R. Baños
In this delightfully quirky coming-of-age comedy, 18-year-old Ali is afraid of driving and of falling in love, which gets complicated when Julio comes on the scene. Ages 13+


Spain | 2012 | 105 minutes | Fernando Trueba
In the summer of 1943, an aging sculptor (the legendary Jean Rochefort) in occupied France experiences a creative rebirth when a young Spanish refugee becomes his muse. Nominated for 13 Goya Awards.
Spain | 2012 | 116 minutes | Eduard Cortés
Set in Franco-controlled 1955 Spain, this colorful and freewheeling true-life heist thriller follows a bevy of agents, criminals, and police officers in their attempts to get their hands on Eva Perón's famed jewels.


Spain | 2012 | 94 minutes | Aitor Mazo, Patxo Telleria
In this comedy of errors, Xavi pretends to reciprocate the romantic longings of Maria in order to cheer her up following a diagnosis of a terminal illness. But when her health improves, Xavi must balance this new relationship with that of his girlfriend.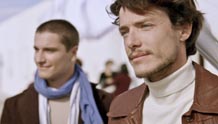 Spain | 2013 | 87 minutes |
Lovers' secret codes, a wondrously surreal recital, and a haunted Brooklyn apartment—come discover the accomplished and eclectic range of work found in Spanish short cinema today.
Spain | 2012 | 97 minutes | Cesc Gay
Wounded male egos and middle-age masculine identities in the modern age are explored in this deadpan comedy through a clever collection of humorous vignettes starring Spain's best-known actors.


Spain | 2012 | 98 minutes | Daniel Calparsoro
Returned from Iraq, a soldier's fragmented memories of his injuries don't match the official story. He seeks out the truth that others do not want disclosed in this visceral political thriller.


Spain | 2012 | 100 minutes | Imanol Uribe
A chilling political thriller from acclaimed director Imanol Uribe. Set in the 1950s, it follows Enrique, a conflicted stenographer for a fascist judge who struggles with morality, loyalty, and which side to be on when he witnesses the execution of his mother's doctor.


Spain | 2013 | 85 minutes | Neus Ballús
A vividly shot slice of life docudrama set in the distant suburbs of Barcelona, this heavy but hopeful film follows five interconnected Catalonians, including a wrestler and a farmer, as they struggle with personal and economic difficulties.
Spain | 2013 | 108 minutes | Isabelle Coixet
In the vein of Alfonso Cuaron's dystopic masterpiece, Children of Men, legendary Spanish auteur Isabel Coixet (Elegy, The Secret Life of Words) visits a near future Barcelona ravished by a devastating financial crisis. NORTH AMERICAN PREMIERE