Films A to Z
Browse Films4Families
USA | 2013 | 90 minutes | Chris Wedge
A teenager finds herself aligned with a rag-tag group of characters in a battle deep in the forest between the forces of good and evil in this 3D fantasy adventure based on William Joyce's children's book The Leaf Men and the Brave Good Bugs.
France | 2012 | 79 minutes | Benjamin Renner, Stephane Aubier, Vincent Patar
Youth Jury Award for Best Films4Families Feature: Grand Jury Prize
Little mice are taught to be afraid of bears, but when little Celestine's dreams of meeting one is realized, the shabby Ernest proves to be the best friend an open-minded mouse could ask for. In French with English subtitles. All ages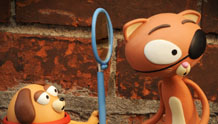 2013 | 87 minutes |
Gather your family around the flickering glow of the big screen for this magical set of animation, live action, and documentary short films the whole family will enjoy.
USA | 2013 | 90 minutes | Dan Scanlon
Mike Wazowski and James P. Sullivan are an inseparable pair, but that wasn't always the case. When these two mismatched monsters met they couldn't stand each other. A bright and hilarious prequel unlocking the door to how Mike and Sulley overcame their differences and became the best of friends.


Germany | 2012 | 95 minutes | Stephan Schesch
With touches of A Cat in Paris and the films of Sylvain Chomet (The Illusionist, The Triplets of Belleville), and based on a book by Tomi Ungerer, this man in the moon will delight all ages.


USA | 1923 | 67 minutes | Fred Newmeyer, Sam Taylor
A store clerk (Harold Lloyd) organizes a contest to climb the outside of a 12-story building, and ends up dangling from a skyscraper in this 1923 silent romantic comedy classic. All ages


Japan | 2012 | 117 minutes | Mamoru Hosoda
Mamoru Hosoda exhibits his mastery of understated drama and the subtleties of emotion in this beautifully animated film. Hana's decisions will leave you aching with sweet melancholia. In Japanese with English subtitles. Ages 8+