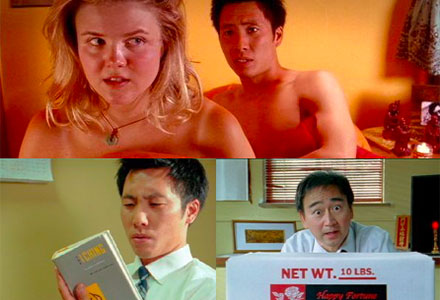 First Draft
180 minutes
6:30-9:30pm (Film Center Theater)
$5 - General Audience, Free - SIFF Members
First Draft centers on a table reading of a script in development with professional actors, followed by audience feedback and a networking reception. The First Draft screenwriting workshop series gives local writers an exciting chance to stage live readings of their work with professional actors. Film fans also have the opportunity, along with industry professionals, to offer immediate and constructive criticism.
This edition of First Draft features Fortune Hunters, a comedy currently in development for feature-length production. Fortune Hunters is written by Thom Harp and Mike Standish and produced by John W. Comerford and Rich Cowan. The feature length screenplay is based on the short film Fortune Hunters, distributed by Shorts International and available on iTunes.
Script Synopsis:
To escape a lifetime of writing fortunes at his Dad's fortune cookie factory, Arthur Yu studied hard to become a lawyer. But on the same day that he gets his letter of acceptance to law school, Arthur's college girlfriend, Megan, has news: She's landed a museum job in Shanghai. Megan's dream job is Arthur's nightmare. Faced with choosing between love and career, Arthur does the sensible thing – he dumps Megan one month before she heads to China. Arthur vents his romantic frustrations the only way he knows how – through fortune cookies. When she reads them - "Confucius say you will die alone" - Megan realizes that he's not over her. She hatches a scheme to convince Arthur he's made the mistake of a lifetime, and gives him one last chance to come to his senses.
Thom Harp - Director/Co-writer
After graduating with degrees in theater and film, Thom Harp pursued a career as a cinematographer. He shot commercials and corporate campaigns for clients such as for Microsoft, Boeing, British Petroleum and City of Hope. His music videos and documentary footage of the explosive Seattle music scene are on permanent display at Paul Allen's Experience Music Project. Since turning to writing and directing, he has made four award-winning shorts, including 8 Minutes to Love, starring Emmy Award winner Sandra Oh, and Fortune Hunters, both of which are distributed through Shorts International.
Mike Standish - Co-writer/Consulting Producer
Mike Standish began his career writing and producing sketch comedy, playing national sketch comedy festivals in Seattle, San Francisco, Portland, Chicago and more. He moved to film in collaboration with director Thom Harp, with whom he co-wrote and produced the award-winning short films Driver's Ed and Fortune Hunters. He has written about film for the Walt Disney Company, and produced the Webby Award-winning online Muppet series, Statler & Waldorf: From the Balcony. As a creative director, he has spearheaded campaigns for Microsoft, the Seattle Symphony AT&T, Samsung, The Bill & Melinda Gates Foundation, Intel and more.
John W. Comerford - Producer
John W. Comerford is writer and producer of independent film and media. He is President of Paradigm Studio, a motion picture production company in Seattle and serves on the board of SIFF. Recently he joined the faculty at Seattle University as an adjunct professor. He graduated from the University of Colorado at Boulder where he studied with filmmakers Stan Brakhage and Jerry Aronson; earning dual degrees in Psychology and Film. His productions, including the award-winning feature film Around the Fire, have been exhibited and distributed by Showtime, Starz/Encore, The DOC Channel, AFI, SIFF, SXSW, Netflix, iTunes, Amazon and the Cannes Film Market. His latest work, the critically- acclaimed documentary ICONS Among Us: jazz in present tense, is available globally.
Rich Cowan - Producer
Spokane business owner Rich Cowan pioneered the acclaimed film and video production company North by Northwest Productions. As its CEO and President, Rich has worked with his partners to create sustainable jobs while bringing in millions of dollars spent on location in Eastern Washington. Rich's firm has created more than 45 feature films distributed throughout the world. Rich himself has directed several movies, including The Basket, an award-winning family film, shot in Spokane and Whitman Counties. Rich and his company have received regional and national recognition for their success, putting Washington on the map as an attractive destination for film and production work.
Running Time:
180 minutes