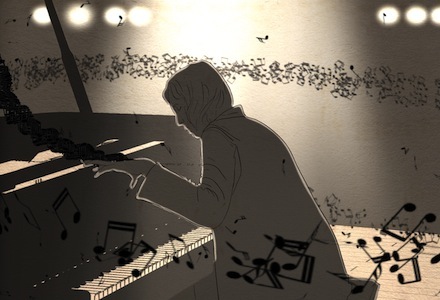 Ouverture
USA | 2013 | 5 minutes | Bracey Smith, Neil Dvorak
What do you do when you're born with music pouring out of your heart?
This film is playing as a part of...
It is our great pleasure to open our ShortsFest weekend with this collection of superb short films from around the world that exemplify the art of storytelling in all its variety. Comedy and drama, live action and animation—these films prove that short is truly sweet.
Director:
Bracey Smith, Neil Dvorak
Principal Cast:
Nadejda Vlaeva, Debbie Dvorak, Josh Bernhard, Rosalia Vlaeva Malik, Amélie Mina Smith
Country:
USA
Year:
2013
Running Time:
5 minutes
Producer:
Louis Meisel, Susan Meisal, Josh Bernhard
Screenplay:
Bracey Smith
Editors:
Bracey Smith
Music:
Nadejda Vlaeva
Website:
http://www.ouvertureanimation.com/
Language:
English
Format:
HDCAM
Show All