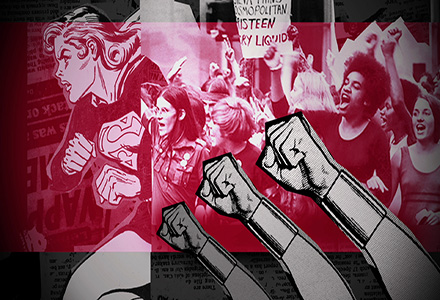 Sheroes in the Media: From Guerrilla Girls to Women in Film
90 minutes
3:00-4:30pm (Film Center Classroom)
$5 - General Audience, Free - SIFF Members
How are women, both real and fictional, represented in American culture and around the world? How do advocates of media literacy, as well as media makers, subvert these messages or offer alternatives for empowerment through their work? Join the conversation with activists and groundbreaking artists.


Sheroes exist. They can be found in the stories of comics, novels, film, television, and video games. They can also be found in real life - in mothers and sisters, community leaders, and media makers. Looking at the influence of the Guerilla Girls on the art world how can filmmakers use cinematic narrative to destroy sterotypes and diversify cinema? How have local artists impacted the role of women in film? Who influences and controls the messages we receive about strong women - and how are they internalized by consumers? Bring your friends and family to offer your perspective on how to democratize the creative process in a way that offers women, girls, men and boys innovative tools for cinematic storytelling that promotes strength, love and dissent.
Moderator:
Dr. Amy Peloff is the Assistant Director of the Comparative History of Ideas Program and an Affiliate Assistant Professor of Gender, Women, and Sexuality Studies at the University of Washington. Her work examines the role that popular culture has played in disseminating feminist ideas beyond the organizations and activists that identified as feminist in the United States, particularly during the second wave of feminism. A voracious consumer of female detective stories, sci-fi and fantasy television series, and Hollywood gossip, she continually studies the ways in which ideas about identities are created, presented, and shared through media and popular culture.
Panelists:
Susie J. Lee is an award-winning Korean-American artist recognized as the 2006 Emerging Artist of the Year for her video art. She has been named An Artist to Watch by ARTnews, and has won the Stranger Visual Art Genius Award and the Portland Art Museum's Contemporary Northwest Art Award. Her work has been exhibited at the Blanton Museum of Art, Austin; the Tacoma Art Museum; and Gallery Hyundai, Seoul. Her works can be seen in collections at the Frye Art Museum, the Denver Art Museum, and the Portland Art Museum. Lee's work will be exhibited in Naples, Italy at Castel Sant Elmo in 2013.
Jennifer K. Stuller is a writer, author, scholar, media critic and feminist pop culture historian. She is the Director of Programming and Events for, as well as a co-founder of, Seattle's own GeekGirlCon; the author of Ink-Stained Amazons and Cinematic Warriors: Superwomen in Modern Mythology (I.B. Tauris), and the editor of Buffy the Vampire Slayer and Fan Phenomena (Intellect, 2013). Additionally, Stuller is a noted public speaker, and a member of Humanities Washington's Speakers Bureau. She can be found at Ink-StainedAmazon.com, and has vowed to use her powers only for good.
B. J. Bullert, Ph.D., is an academic and documentary filmmaker. At the Center for Creative Change, Antioch University Seattle, she teaches adult learners how to use media for social change. Her book, Public Television: Politics and the Battle Over Documentary Film, examines the anatomy of controversy. She has a doctorate in communication from the UW and a M. Litt from Oxford University in politics, and she has been a Research Fellow at Harvard University. Her company, Seattle Films, produces films with a regional focus. They include "Dancing Lives," "Fishermen's Terminal," "Chief Seattle" and "Space Needle at 40." (www.seattlefilms.org)
Royal Alley-Barnes is the Executive Director of the Langston Hughes Performing Arts Institute. Her impactful work in connecting communities around public sector government and the arts spans over 35 years. She joined LHPAI in 2009. Her collaborative arts expertise has allowed her to develop viable financial and program infrastructure for eight major city arts/museum organizations. Royal, as an expert in discipline, has lectured, taught, and presented in the fields of visual arts, art history, art education, pluralistic community building, and public infrastructures. Her diverse audiences have included university and professional groups.