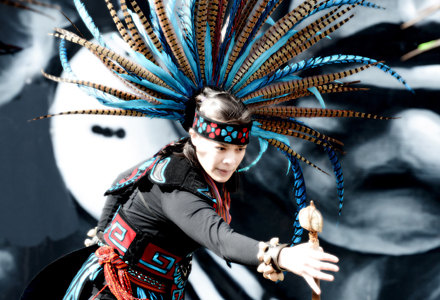 SuperFly and Native Shorts Showcase
2013 | 85 minutes |
SIFF FutureWave and Longhouse Media present the SuperFly short films, created in 36 hours by youth filmmakers, in collection with short films created by Native filmmakers.
SIFF FutureWave empowers youth to work collaboratively as creative storytellers and positive voices in their communities. This mission is embodied in the SuperFly Filmmaking Experience, a partnership with Longhouse Media, a Native-run, nonprofit that works in tribal communities. In this program, young filmmakers come together to express themselves using multimedia and digital tools.

On May 30th, 50 young filmmakers from around the country will convene in Seattle to participate in the 8th Annual SuperFly, a 36-hour filmmaking workshop, organized by Longhouse Media. Divided into five teams, the filmmakers are provided with the production tools to storyboard, direct, shoot and edit a collection of unique stories based in the Suquamish Tribal Community, home of Chief Sealth (Seattle). Guided by talented mentors such as Sterlin Harjo, Drew Christie, Kiliii Fish, Them Savages, and BC Campbell, the students will dive into curious community stories including the infamous Sasquatch, arranged marriages, bootlegging, and contemporary teen life on the rez. This year's subject is investigative in nature, exploring the theme of "SIFF Curious?". Each SuperFly team will have less than two days to research, storyboard, shoot, and edit their films, which will then premiere four hours after completion.
Previous SuperFly films (based on scripts by Sherman Alexie, Sterlin Harjo, Peter Bratt, Andrew Okpeaha MacLean and Sierra Ornelas) have played at festivals around the country, inspiring other communities to use digital media for education and social activism. SuperFly has caught the attention of many youth media organizations and national media centers, including the Smithsonian Museum's media initiatives, Sundance programmers, and National Geographic. Finally, included at this year's SuperFly screening, there will be a live acoustic performance by returning SuperFly mentors Them Savages.
The mission of Longhouse Media is to catalyze indigenous people and communities to use media as a tool for self-expression, cultural preservation, and social change. Longhouse Media draws from both traditional and modern forms of artistic expression, storytelling, teaching, and inquiry.
Join us for the SuperFly 2013 premiere on June 1st at 4:00 pm at the Harvard Exit as we celebrate the 8th Anniversary of this unique program.
Packaged Films
In a tight-knit Cree community in northern Saskatchewan, 16-year-old Alyssa's plans to become a mom begin to unravel.
The hummingbird dives and darts with great agility, representing fertility and joy. Huitzilopochtli is an expression of willpower, strength and survival carried forward through dance.
A young guitar player really puts his heart into his music
Going to water was once a very common place for morning prayers of the Cherokee people. They now face issues and fears of the pollution in the local water streams and rivers.
Young Nodin expresses his Anishnabe cultural pride through hip hop dancing.
Year:
2013
Running Time:
85 minutes