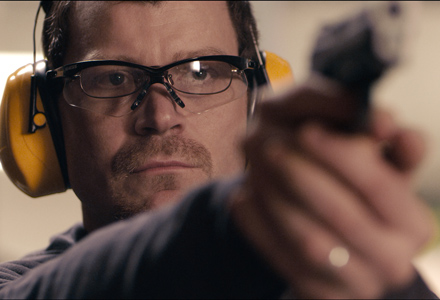 Thriller Night
2012 | 88 minutes
Vigilante justice. Burning battlefield grudges. Robots seeking revenge. As these gripping tales of action-packed, high-stakes drama unfold, just try to hang on to the edge of your seat.


Packaged Films
A mysterious drifter knows something horribly wrong has happened to his only friend. It's up to him to make it right.
Three soldiers return home from their tour of duty in Afghanistan. But the damage done is just beginning.
After a terrifying break-in, a man buys a gun for protection. But his newfound sense of power leads him down a dangerous path.
Awaking from a coma after an accident, a psychiatrist is forced to confront the consequences of his own actions.
When a quadriplegic struggling to come to terms with his injuries finds himself face to face with a violent criminal, his desire to survive is put to the ultimate test.
Saving the world from a destructive robot invasion will require an unforgettable trip through time in this visually stunning sci-fi actioner created by the Blender Institute, set up specifically to facilitate the creation of open content films and games.
Year:
2012
Running Time:
88 minutes