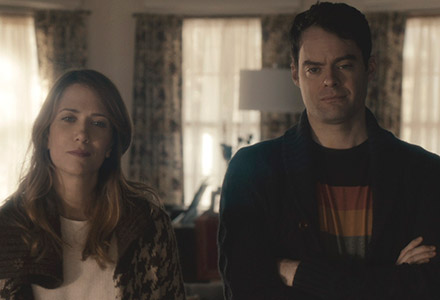 The Skeleton Twins
USA | 2014 | 90 minutes | Craig Johnson
Bellingham native Craig Johnson directs "Saturday Night Live" alums Kristen Wiig and Bill Hader in astonishing performances as estranged twins. After cheating death on the same day, Maggie and Milo reunite in their native upstate New York town in this simultaneously humorous and melancholic comedy.
Screening on STANDBY – Advance tickets not available
Siblings Maggie and Milo ("Saturday Night live" alums Kristen Wiig and Bill Hader) haven't seen each other in ten years. After both attempt and fail to commit suicide on the same day, the troubled pair moves in together. The two slowly reconnect, wondering how they've let themselves grow so far apart. Craig Johnson, a Bellingham native and UW grad, and co-writer Mark Heyman (Black Swan) have crafted a film about two lost people whose reunion might be the first step in figuring out what to do with their lives. Their screenplay is rich with character and mood, but it's the striking and authentic dynamic between the two stars that ties it all together. Wiig and Hader are mostly known for their hysterical and offbeat turns, but their performances in The Skeleton Twins are full of real nuance, pain, and resonance—without losing their comedic bite. Their Maggie and Milo are as heartfelt and painfully familiar as onscreen sibling bonds get, bound to make audiences laugh and squirm. Featuring strong supporting work from Luke Wilson and Ty Burrell as the men in the pair's lives, in addition to one of the best '80s pop lip-sync performances in recent film history, The Skeleton Twins is a dark and moving comedy that reminds us that no matter how strange and tough life gets, family could be first to help.
Director Biography
Craig Johnson has an MFA from New York University's film program and has taught filmmaking at the School of Cinema and Performing Arts. The Skeleton Twins is Johnson's second feature film after True Adolescents, which was nominated for the narrative grand jury prize at the 2009 South by Southwest Film Festival.
Sponsored by Ingeniux, JACK-FM
Director:
Craig Johnson
Principal Cast:
Bill Hader, Kristen Wiig, Luke Wilson, Ty Burrell, Boyd Holbrook
Country:
USA
Year:
2014
Running Time:
90 minutes
Producer:
Stephanie Langhoff, Jennifer Lee, Jacob Pechenik
Screenplay:
Craig Johnson, Mark Heyman
Cinematographers:
Reed Morano
Editors:
Jennifer Lee
Music:
Nathan Larson
Website:
www.roadsideattractions.com
Awards:
Sundance Film Festival 2014 (Waldo Salt Screenwriting Award)
Filmography:
True Adolescents (2009)
Language:
English
Format:
DCP
US Distributor:
Roadside Attractions
International Sales:
Furnace Films
Show All