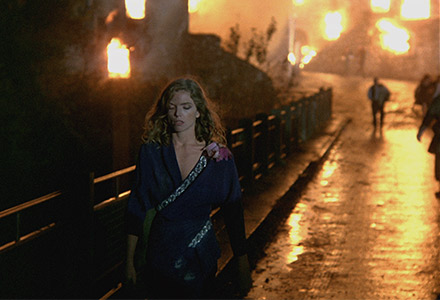 The Skin
Le Pelle
Italy | 1981 | 131 minutes | Liliana Cavani
Based on the novel by Curzio Malaparte, with a script by Catherine Breillat, The Skin (1981) flaunts an all-star cast including Marcello Mastroianni and Burt Lancaster, and is set during the American occupation of Italy in 1944.
Liliana Cavani's 1981 film about the corruption and despicable conditions of post-war society, based on the controversial novel by Curzio Malaparte as well as the author's own experiences, follows Malaparte in his role as diplomatic liaison in 1940s Naples, where he acted as a translator and tour guide between the Allied forces and the Italians during the US occupation. Vile acts of prostitution and the exploitation of young girls appear to be the norm in Naples as Malaparte shows around the family of an American senator. Cavani brings into speculation whether or not moral behavior is a choice when survival is near impossible, and manipulation of 'the skin' is seemingly the only option. Presenting a quietly impressive cast, with beloved Italian actor Marcello Mastrioianni as Malaparte and the ruggedly handsome Burt Lancaster as an American general, Cavani's film is an unsettling look at the globalization process as well as an observation of this particular period of time through a feminist lens. The Skin features a soundtrack by the great Lalo Schifrin (Cool Hand Luke, "Mission Impossible") and was co-written by French feminist filmmaker Catherine Breillat (Abuse of Weakness, Fat Girl).
Director Biography
Liliana Cavani, born in 1933 in Carpi, Emilia-Romagna, is an Italian director and screenwriter whose films have intellectual ambitious and historical concerns. In 1965, she received the Golden Lion at Venice Film Festival for a documentary about Philippe Petain. She became internationally known after the success of her 1974 feature film The Night Porter, with Dirk Bogarde and Charlotte Rampling. Her movies Milarepa (1974), The Skin (1981), and Francesco (1989) were all selected for Official Competition at Cannes Film Festival. She received the François Truffaut Award at Giffoni Film Festival and she was part of the jury at the 2009 Venice Film Festival. In addition to feature films and documentaries, she has also been an opera director.
Sponsored by Osteria La Spiga, Scarecrow Video
Director:
Liliana Cavani
Principal Cast:
Burt Lancaster, Claudia Cardinale, Ken Marshall, Marcello Mastroianni
Country:
Italy, France
Year:
1981
Running Time:
131 minutes
Producer:
Manolo Bolognini, Renzo Rossellini
Screenplay:
Catherine Breillat, Curzio Malaparte, Robert Katz, Liliana Cavani
Cinematographers:
Armando Nannuzzi
Editors:
Ruggero Mastroianni
Music:
Lalo Schifrin
Filmography:
Dissociated States (1999); St. Francis of Assisi (1988); The Berlin Affair (1986); Beyond the Door (1983); Beyond Good and Evil (1977); The Night Porter (1974); Milarepa (1973); The Hospital (1971); The Cannibals (1969); Galileo (1966); L'Evento (1962); Incontro Notturno (1961)
Language:
Italian
HasSubTitles:
Yes
Format:
DCP
US Distributor:
Cohen Collection
Show All