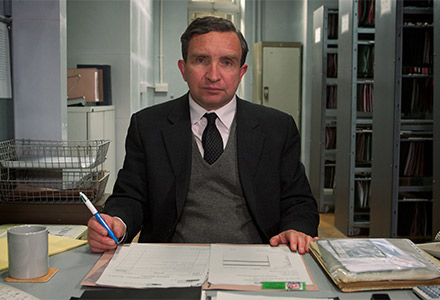 Still Life
Italy | 2013 | 92 minutes | Uberto Pasolini
John May (a superb Eddie Marsan), a meticulous government worker charged with finding the next of kin of those who have died alone, takes a case that sends him on a liberating, life-affirming journey.
Monday May 26 screening on STANDBY – Advance tickets not available
Picture a Greek Orthodox funeral in South London with proper music, a moving speech and a single mourner: John May. Employed by the burial office, his job is to notify the next of kin of someone who passes away alone. Only when all leads have been checked and all doors shut will May (Eddie Marsan) close the case and organize the funeral himself. This poignant tale about love, life, and the afterlife is an affecting deadpan drama and a stark reminder that sometimes the best we can hope for in life is having someone care when it ends. May takes pride in choosing appropriate music and writing special eulogies so that his dead clients can rest in dignity. When budget cuts hit his department, he gets word that he'll be made redundant. In the meantime, he works more assiduously than ever on what will be his final case, an alcoholic man named Billy Stoke. The search for Stoke's friends takes him on a liberating journey through England that allows him to start living his own life fully at last.
Director Biography
Uberto Pasolini, born in Rome in 1957, is an Italian director and producer. In 1997 Pasolini received international recognition as producer of the film The Full Monty, which won the BAFTA Film Award for Best Film in 1998. He has produced several features since then and directed four movies including Still Life.
Director:
Uberto Pasolini
Principal Cast:
Eddie Marsan, Joanne Froggatt, Karen Drury, Andrew Buchan, Ciaran McIntyre
Country:
Italy, UK
Year:
2013
Running Time:
92 minutes
Producer:
Uberto Pasolini, Christopher Simon, Felix Vossen
Screenplay:
Uberto Pasolini
Cinematographers:
Stefano Falivene
Editors:
Gavin Buckley, Tracy Granger
Music:
Rachel Portman
Website:
Official Film Website
Awards:
Reykjavik International Film Festival 2013 (Best Film, FIPRESCI Award), Capri 2013 (Cult Award), Venice Film Festival 2013 (Horizon Award for Best Director, C.I.C.A.E. Award, Pasinetti Award for Best Film)
Filmography:
Machan (2008)
Language:
English
Format:
DCP
US Distributor:
Tribeca Films
International Sales:
Beta Cinema
Show All