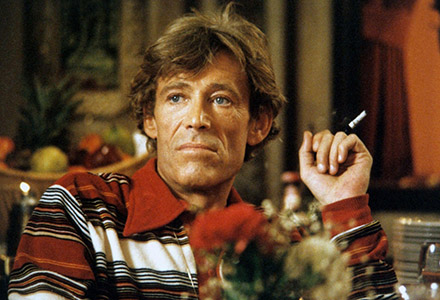 The Stunt Man
June 1 | 40th Anniversary Special Presentation
USA | 1980 | 131 minutes | Richard Rush
Peter O'Toole plays an erratic director who agrees to hire a runaway convict as a stunt man for his World War I epic. As the fugitive takes over the identity of the film's previous stunt man, it becomes clear that no one's intentions are what they seem. This bizarre, clever film was nominated for three Oscars.
Schedule
June 1, 2014
xHarvard Exit  
1:30 PM
Date has passed

Director Richard Rush scheduled to attend

Show All
The movie that Seattle saved! Richard Rush's The Stunt Man may have ended up with three Oscar nominations, but it almost never got a release. Based on a novel of the same name, the story is about Cameron (Steve Railsback), a guy on the run from the cops who stumbles onto a movie set, thinks he gets a stunt man killed, and then is hired by megalomaniacal film director Eli Cross (Peter O'Toole) to take the stunt man's place. He believes the director is taking excessive risks with him, and after he falls for the leading lady (Barbara Hershey), he thinks the director may be trying to have him killed. The studios couldn't tell whether Rush's film was a comedy, action film, art film, existential allegory, or what. The producers hated it enough to want to shelve it, so Rush brought it to Seattle, where film critic William Arnold called it "an affirmation of hope for an exciting new American cinema in the 1980s." The closing night film from SIFF #5, The Stunt Man went on to run 43 weeks at the Guild 45th and went into the history books as one of the best films about filmmaking ever made. It was nominated for three Oscars.
Director Biography
Richard Rush is an American movie director, screenwriter, and producer. After graduating from the University of California Los Angeles, Rush began his career creating television programs for the United States military. Rush's best-known film, The Stunt Man (1980), was nominated for the Oscar for Best Actor, Best Director, and Best Adapted Screenplay.
Sponsored by AlphaGraphics
Director:
Richard Rush
Principal Cast:
Peter O'Toole, Steve Railsbeck, Barbara Hershey, Allan Goorwitz, Alex Rocco
Country:
USA
Year:
1980
Running Time:
131 minutes
Producer:
Richard Rush
Screenplay:
Richard Rush, Larry Marcus, based on the novel by Paul Brodeur
Cinematographers:
Mario Tosi
Editors:
Jack Hofstra, Caroline Biggerstaff
Music:
Dominic Frontiere
Awards:
Montréal World Film Festival 1980 (Grand Prix des Amériques), Golden Globes 1981 (Best Original Score), National Society of Film Critics Awards 1981 (Best Actor)
Filmography:
Color of Night (1994); Freebie and the Bean (1974); Getting Straight (1970); A Man Called Dagger (1968); The Savage Seven (1968); Psych-Out (1968); Hells Angels on Wheels (1967); The Cups of San Sebastian (1967); Thunder Alley (1967); Of Love and Desire (1963); Too Soon to Love (1960)
Language:
English
Format:
HDCAM SR
US Distributor:
20th Century Fox
Show All