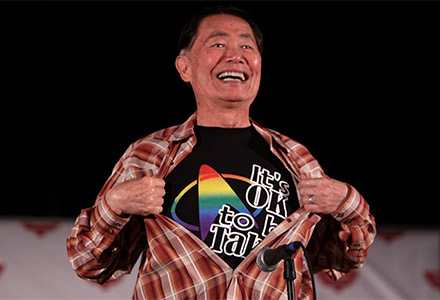 To Be Takei
USA | 2014 | 90 minutes | Jennifer Kroot
From a World War II internment camp to "Star Trek" to online celebrity, George Takei's journey has been filled with the unexpected. A crowd-pleasing peek into the public and private lives of equal rights activist and gay icon Takei and his husband, Brad.
As Sulu on TV's "Star Trek," he boldly went where no man had gone before—and now, George Takei is on a new mission. Years after becoming one of the first Asian-American actors to appear on primetime television, Takei is the subject of Jennifer Kroot's documentary, which follows the actor and his husband, Brad, as they fight for and promote equal rights. Kroot traces Takei's rich and complicated past, from spending time in a WWII internment camp to breaking stereotypes as one of "Star Trek"'s most beloved characters. But To Be Takai also explores George Takei as the social media icon—after leading the starship Enterprise, he now guides over five million Facebook fans in his rally for equality. Firmly believing homosexuality to be an "orientation" (as opposed to a "lifestyle") in his civil rights advocacy, Takei graces cyberspace with his quirky humor and abundance of heart, in his signature voice. Kroot's documentary is a funny and moving film about how a beloved actor has taken advantage of his celebrity to fight for the liberty and love that matters to so many of us.
Director Biography
Jennifer Kroot is a Bay Area filmmaker who directed the sci-fi film Sirens of the 23rd Century as well as the documentary It Came From Kuchar, about filmmaking twins George and Mike Kuchar. She studied film at the San Francisco Art Institute before her career began, and is currently teaching film there as well as lecturing at Stanford and Denver University.
Sponsored by Snoqualmie Ice Cream
Packaged Films
Director:
Jennifer Kroot
Country:
USA
Year:
2014
Running Time:
90 minutes
Producer:
Gerry Kim, Jennifer Kroot, Mayuran Tiruchelvam
Cinematographers:
Christopher Million
Editors:
Bill Weber
Music:
Michael Hearst
Website:
Official Film Website
Filmography:
It Came from Kuchar (Doc, 2009); Sirens of the 23rd Century (2003)
Language:
English
Format:
HDCAM
US Distributor:
The Film Collaborative
Show All