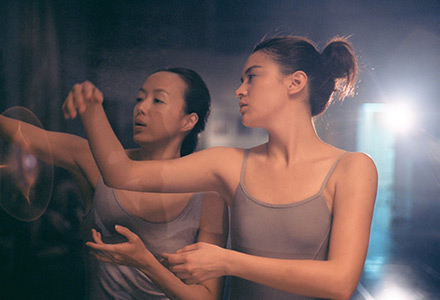 Touch of the Light
Ni Guang Fei Xiang
Taiwan | 2012 | 110 minutes | Jung-Chi Chang
Music, dance, and a gentle dash of romance shine when Yu-Siang, a blind pianist, meets Chieh, an aspiring dancer who gave up her goal because she couldn't afford extensive study and training. Based on Yu-Siang's true story.
Take music, dance, and a splash of romance and you have a recipe that Touch of the Light cooks to perfection. This coming-of-age story opens with a gifted blind young pianist (Huang Yu-siang, playing himself) leaving his village for the university in the big city. Despite his mother's fears, Huang quickly makes friends and eventually meets Chieh, an aspiring young dancer whose dreams have been stifled by a miserable family situation and an unsupportive boyfriend. Director Chang Jung-chi wisely waits to introduce our two leads to each other, taking the time to get to know them as individuals and allowing a more immersive experience when they begin to interact. Huang makes a very charming protagonist and Sandrine Pinna steals the show as Chieh, communicating so much with just her eyes in moments of grief or joy. In each other, these two amazing individuals find strengths neither knew they possessed, powering this gentle, exuberant crowd-pleaser with the power of positive thinking.
Director Biography
Chang Jung-chi was born in Taiwan in 1980. He received his Master's degree from the Graduate School of Applied Media Arts at the National Taiwan University of Arts. In 2006, his My Football Summer won the Best Documentary Award at the Golden Horse Awards. His graduation film, The End of the Tunnel (2008) was awarded the Best Short Film at the Taipei Film Festival and also appeared at DIFF 2008. Touch of the Light is his feature debut.
Sponsored by Ministry of Culture, Republic of China (Taiwan), Delta Air Lines, The Safeway Foundation, KPLU
Director:
Jung-Chi Chang
Principal Cast:
Huang Yu-Siang, Sandrine Pinna, Lee Lieh, Hsieh Kan-chun
Country:
Taiwan
Year:
2012
Running Time:
110 minutes
Producer:
Jacky Pang Yee Wah, Cheung Hong-Tat
Screenplay:
Li Nien-Hsiu
Cinematographers:
Dylan Doyle
Editors:
Li Nien-Hsiu
Music:
Wen Tzu-chieh, Huang Yu-Siang
Website:
Official Film Website
Awards:
Official Oscar Submission 2012 (Foreign Language Film), Taipei Film Festival 2012 (FIPRESCI Prize, Best New Director), Busan Film Festival 2012 (Audience Award)
Filmography:
Debut Feature Film
Language:
Taiwanese, Mandarin, Cantonese
HasSubTitles:
Yes
US Distributor:
Well Go USA
International Sales:
Fortissimo Films
Show All