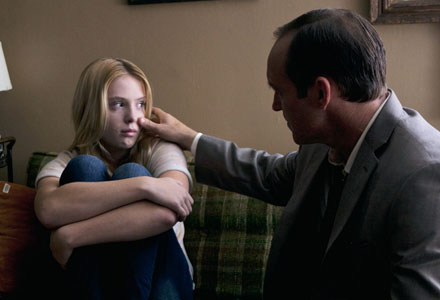 Trust Me
USA | 2013 | 90 minutes | Clark Gregg
Former child star-turned-talent agent Howard Holloway (writer-director Clark Gregg) has stumbled through Tinseltown for years, but when he happens upon his potential big break in the form of a 13-year-old Oklahoma émigré poised for stardom, he must navigate the shark-infested waters of Hollywood without losing his head. Clark Gregg in attendance.
The life of a child actor is a path fraught with peril. No matter how much of an impact a young star may make in the pop culture zeitgeist, adolescence, senescence, and obsolescence await them. Howard Holloway (writer-director Clark Gregg, The Avengers) somehow made it out of the downward-spiraling career of his youth unscathed, but he never made it out of Hollywood. Now a floundering talent agent representing the field where he found minimal acclaim, Howard has but a few child clients under his wing, and most of them treat him with a soul-crushing indifference. There may be a glimmer of hope, however, when Howard stumbled upon his big break, one in the form of 13-year-old Oklahoma émigré Lydia (Saxon Sharbino, "Touch"). If he can get her to trust him, avoid the bumbling wrath of her alcoholic father, and book her for a starmaking turn in an upcoming vampire movie franchise, perhaps fame and fortune is within reach. But has he bitten off more than he can chew? Featuring an all-star supporting cast including Felicity Huffman and Allison Janney as tormented producer and casting director, Amanda Peet as a friendly neighbor, Molly Shannon as a controlling stage mom, and Sam Rockwell as Howard's unctuous rival Aldo Shocklee, this is a cinematic satire with a harsh bite.
Director Biography
Character actor Clark Gregg, born in Boston, Massachusetts, has appeared on screens both large (The Adventures of Sebastian Cole, Magnolia) and small ("The New Adventures of Old Christine") for over 25 years, but he is best known for his portrayal of Agent Phil Coulson, a recurring character in the Marvel live-action universe (The Avengers, Iron Man, "Marvel's Agents of S.H.I.E.L.D."). In behind-the-scenes capacities, he penned Robert Zemeckis' 2000 Hitchcockian thriller What Lies Beneath before making his directorial debut with 2008's Choke, adapted from Chuck Palahniuk's novel.
Director:
Clark Gregg
Principal Cast:
Clark Gregg, Sam Rockwell, William H Macy, Felicity Huffman, Allison Janney, Amanda Peet
Country:
USA
Year:
2013
Running Time:
90 minutes
Producer:
Aaron L. Gilbert, Brad Greiner, Akshaii Hariharan, Raju Hariharan
Screenplay:
Clark Gregg
Cinematographers:
Terry Stacey
Editors:
Kathryn Himoff
Music:
Mark Killian
Filmography:
Choke (2008)
Language:
English
Show All