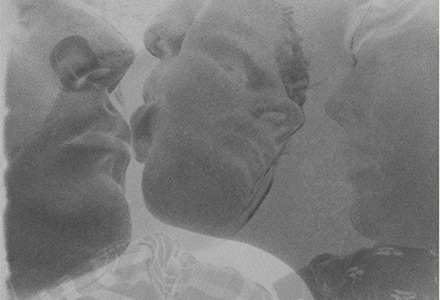 Vis à Vis
USA | 2013 | 25 minutes | Abigail Child
A testament to 16mm black and white celluloid and differing sexualities, seductions and (d)alliances.
This film is playing as a part of...
Queercore provocateur Bruce LaBruce smashes Arnold Schoenberg's titular melodrama—a cycle of 21 poems in a female narration—with Expressionistic visuals of a trans man lost in a world of symbolic fantasies and desires. Screens with Abigail Child's Vis à Vis (USA 2013, 25 min).
Director:
Abigail Child
Principal Cast:
Carla List, Ela Troyano, Gail Vachon, George-Thérèse Dickinson, Jon Rubin, Pooh Kaye, Sally Silvers
Country:
USA
Year:
2013
Running Time:
25 minutes
Producer:
Abigail Child
Cinematographers:
Abigail Child
Editors:
Abigail Child
Music:
Andrea Parkins
Website:
Official Film Website
Language:
No Dialogue
Show All