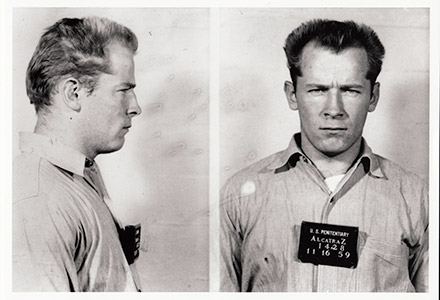 Whitey: United States of America v. James J. Bulger
USA | 2014 | 130 minutes | Joe Berlinger
Oscar®-nominated documentarian Joe Berlinger (the Paradise Lost trilogy) investigates the corrupt relationship between the FBI and James "Whitey" Bulger, the infamous Boston crime lord who led authorities on a 16-year wild goose chase.
On June 22, 2011, 81-year-old James "Whitey" Bulger was arrested outside of his apartment in Santa Monica, California, having spent the previous 12 years on the FBI's Ten Most Wanted Fugitives list. He was the central figure in Boston organized crime—ultimately being charged for murder, extortion, racketeering, and money laundering—as well as a reputed FBI informant who provided information concerning the rival Italian Patriarca crime family. In exchange, the Bureau turned a blind eye to his own illicit activities. But when Bulger was tried in June 2013, he denied ever being an informant for the FBI, fulminating his already high-profile trial into a full-blown media circus. Documentarian Joe Berlinger, director of the Paradise Lost trilogy, explores the Bulger mystique. With unprecedented access to Bulger's fellow gangsters, the victims and their families, and law enforcement agents, Berlinger uncovers shocking new allegations of corruption that reach into the highest levels of federal law enforcement, yet the director never glosses over Bulger's own criminal exploits. Comprehensive and mesmerizing, Whitey: United States of America vs. James J. Bulger is a fascinating and compelling examination of truth and justice, crime and punishment.
Director Biography
American director Joe Berlinger has won multiple Emmys and has been nominated for an Academy Award®. Berlinger is best known for his non-fictions films and television work.
Sponsored by KUOW 94.9
Director:
Joe Berlinger
Country:
USA
Year:
2014
Running Time:
130 minutes
Producer:
Joe Berlinger, Caroline Suh
Cinematographers:
Robert Richman
Editors:
Joshua Pearson, Alex Horwitz
Music:
Wendy Blackstone
Website:
Official Film Website
Filmography:
Under African Skies (Doc, 2012); Paradise Lost 3: Purgatory (Doc, 2011); Crude (2009); Metallica: Some Kind of Monster (Doc, 2004); Book of Shadows: Blair Witch 2 (2000); Paradise Lost 2: Revelations (Doc, 2000); Paradise Lost: The Child Murders at Robin Hood Hills (Doc, 1996); Brother's Keeper (Doc, 1992)
Language:
English
Format:
DCP
US Distributor:
Magnolia Pictures
Show All