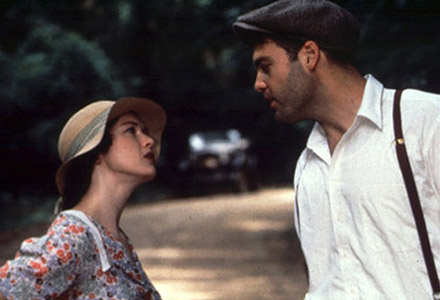 The Whole Wide World
June 7 | 40th Anniversary Special Presentation
USA | 1996 | 111 minutes | Dan Ireland
In 1930s Texas, schoolteacher and aspiring author Novalyne meets Robert E. Howard, a pulp fiction writer later famed for books including "Conan the Barbarian." The true story of a turbulent courtship and cultural moment resonates in Dan Ireland's classic romance. With film director and SIFF co-founder Dan Ireland in attendance!
The story of an epic love is portrayed in exquisitely intimate terms in Dan Ireland's haunting film about love and loss set in Depression-era Texas. The film is based on author Novalyne Price Ellis's autobiographical memoir, "One Who Walked Alone," which traces her turbulent romantic relationship with Robert E. Howard, the great pulp fiction writer of the 1930s who created such classics as "Conan the Barbarian" and "Red Sonja." As the film opens, Novalyne is in a tizzy: her current beau, Clyde, is bringing his best friend, a writer, with him for a visit. Novalyne, a pretty schoolteacher and aspiring author is excited to be meeting a "working writer", though when the men arrive, her romantic notions are somewhat dashed by Robert's slovenly appearance. During a subsequent drive through the countryside, however, Robert proves to be fascinating and charistmatic, and Novalyne's earliest assumptions about him are rekindled. One year later, she hasn't forgotten Robert Howard, and when she's transferred to a post in Cross Plains, where he lives, she wastes no time in trying to contact him. Before long, their sporadic meetings evolve into a courtship of sorts, but the course of true love is a long and winding road. In this cynical age, it's a rare thing for a screen love story to touch both your heart and your soul. The Whole Wide World is one of those rare and cherished films that accomplish this feat, thanks to a superb direction and brilliantly realized performances by Vincent D'Onofrio and Renee Zellweger. Though the love that passed between Novalyne Price and Robert E. Howard was bright and all too brief, it resonates through time with an emotional power as big as the whole wide world.
Director Biography
Dan Ireland is a Vancouver, Canada-born filmmaker and co-founder of the Seattle International Film Festival. He is known for The Whole Wide World (1996), Mrs. Palfrey at the Claremont (2005), and Jolene (2008).
Sponsored by Aron Michael Thompson, Scarecrow Video
Packaged Films
Set in the world of racial tensions of 1963, Hate From A Distance tells the story of a young Southern boy, Danny Baker, who is caught in the middle of his father's hatred of an African American family who have dwelt on the peanut farm they've owned for the last one hundred years.
Director:
Dan Ireland
Principal Cast:
Vincent D'Onofrio, Renee Zellweger, Ann Wedgeworth, Harve Presnell, Benjamin Mouton
Country:
USA
Year:
1996
Running Time:
111 minutes
Producer:
Carl-Jan Colpaert, Kevin Reidy, Dan Ireland, Vincent D'Onofrio
Screenplay:
Michael Scott Myers
Cinematographers:
Claudio Rocha
Editors:
Luis Colina
Music:
Harry Gregson-Williams
Awards:
SIFF 1996 (Best Actor, American Independent Special Jury Prize), Mar del Plata Film Festival 1996 (Best Actress), Lone Star Film and Television Awards 1998 (Best Actor, Screenplay)
Filmography:
Jolene (2008); Mrs. Palfrey at the Claremont (2005); Passionada (2002); The Velocity of Gary (1998); The Rainbow (1989)
Language:
English
Format:
35mm
US Distributor:
Sony Pictures Classics
Show All