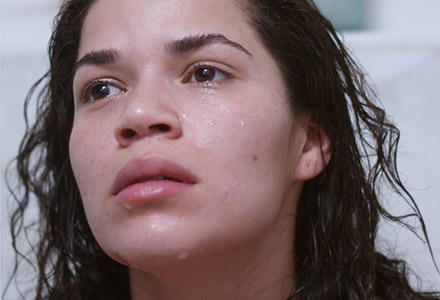 X/Y
USA | 2014 | 83 minutes | Ryan Piers Williams
In this sharp, character-driven drama written and directed by Ryan Piers Williams (husband of star America Ferrera), Jen, Mark, Sylvia, and Jake explore the various states of modern day relationships in New York City, willing to go to desperate lengths in order to maintain emotional balance and their tenuous, confused romantic connections. Actress America Ferrera scheduled to attend!
Schedule
June 1, 2014
AMC Pacific Place 11  
6:30 PM
Date has passed

Director Ryan Piers Williams and actor America Ferrera scheduled to attend

June 2, 2014
AMC Pacific Place 11  
4:15 PM
Date has passed

Director Ryan Piers Williams scheduled to attend

Show All
Ryan Piers Williams (The Dry Land, SIFF 2010) returns to the festival with his sophomore feature, X/Y, a relationship drama centered on a group of six people attempting to make meaningful connections with each other while living and working in New York City. Told episodically from a variety of viewpoints, X/Y burrows deep below the surface of its characters' lives to explore the inner workings of their relationships and why some of them last while others just fade away. Mark (writer-director Ryan Piers Williams) and Silvia (America Ferrera) are barely able to hold theirs together, while Silvia's friend, Jen (Melonie Diaz), doesn't even know where to start. Jake (Jon Paul Phillips) likes to keep his options open, while Stacey (Amber Tamblyn) feels like she is merely passing through. Meanwhile, Jason (Common) finds himself on potentially dangerous ground with Silvia, which brings these interconnected stories to a satisfying end. Directed with a deft touch by Ryan Piers Williams, X/Y is a multi-character story of modern love in the big city, a standout among today's crop of independent films, that features a standout ensemble cast fully up to the challenge of bringing this three-dimensional relationship drama to life.
Director Biography
Texan Ryan Piers Williams graduated from the School of Cinematic Arts at the University of Southern California. Williams wrote and directed his first feature film The Dry Land, which was awarded the Grand Jury Prize at the Dallas International Film Festival and the Best International Feature Award at the 64th Edinburgh International Film Festival. Williams recently wrote, directed, produced, and acted in his second feature film, X/Y.
Sponsored by Ingeniux, ShadowCatcher Entertainment, Warm 106.9 FM
Director:
Ryan Piers Williams
Principal Cast:
America Ferrera, Ryan Piers Williams, Melonie Diaz, Jon Paul Phillips, Amber Tamblyn, Common
Country:
USA
Year:
2014
Running Time:
83 minutes
Producer:
Jason Berman, America Ferrera, Thomas B. Fore, Ryan Piers Williams, Kwesi Collisson
Screenplay:
Ryan Piers Williams
Cinematographers:
Pedro Gomez Milan
Editors:
Sabine Hoffman, Sloane Klevin, Marco Perez, Roy Tenhauser
Music:
Fall on Your Sword
Filmography:
The Dry Land (2010)
Language:
English
Format:
HDCAM
Show All