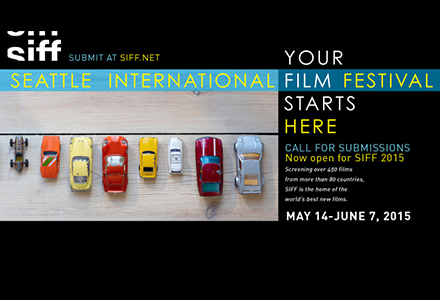 Call for Submissions
Seattle International Film Festival is seeking features, documentaries, short films, and animation for the 41st annual Festival.
The largest and most highly attended film festival in the United States, SIFF presents over 250 features/documentary films and 150 short films to an audience of more than 155,000 every year. The Festival is consistently cited as one of the best "audience festivals" in the world, and Seattle's love for film (Seattleites see more movies per capita than any other city in the nation) makes the city the most appropriate setting for new films to be seen, tested, and celebrated by everyone - fan and filmmaker alike.
SIFF is recognized by the Academy of Motion Picture Arts and Sciences as a Qualifying Festival in all short film categories. Films submitted to the Seattle International Film Festival are reviewed by a team of more than 20 film programmers. The Festival has significant sections devoted to documentaries (60 in 2014), world cinema (83 countries represented in 2014), American cinema (48 features and 34 documentaries in 2014) along with all other genres including animation, experimental, late-night, and more. The Festival also has an annual spotlight on African cinema, presenting a significant selection of films from across the African continent and diaspora.
SIFF is a 501(c)3 non-profit organization.
Seattle International Film Festival 2015 - May 14 - June 7, 2015
---
This year, in addition to our Golden Space Needle Audience Awards, SIFF is proud to offer cash prizes in the following juried categories:

$2,500 New American Cinema Competition
$2,500 New Directors Competition (International 1st and 2nd time directors)
$2,500 Documentary Competition

$1,000 Short Film: Live Action

$1,000 Short Film: Animation

$1,000 Short Film: Documentary
These internationally juried awards are given for excellence in filmmaking, form and content. Additional prizes of goods and services will also be awarded.
---
Submission Deadlines
Earlybird Submission Deadline October 6, 2014

Regular Submission Deadline November 3, 2014

Final Submission Deadline January 5, 2015

Withoutabox Only Extended Deadline February 2, 2015
FutureWave Shorts (youth ages 18 and under) Submission Deadline March 2, 2015
Download Submission Form here
Entry Form with Rules and Regulations
Frequently Asked Questions
If you have questions, please email us.
"There is something magical about a film festival, and Seattle is one of the best in the country. The selections and special events couldn't be more eclectic and smart and there is warmth for those of us who visit as guests of the festival that is hard to beat."-- David Poland, MovieCity News