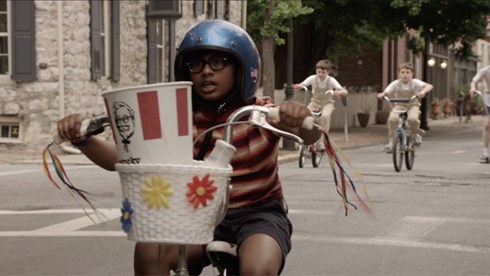 Good Ol' Boy
Kirkland Opening Night | June 1
USA | 2015 | 104 minutes | Frank Lotito
Growing up a 10-year-old boy in '70s suburban America, all Smith wants to do is watch "Happy Days," play with his Star Wars figurines, and hang out with the girl-next-door. But things aren't so easy when his father insists on pushing his Indian heritage on him every second of every day. Director Frank Lotito, actor/producer Anjul Nigam, actors Roni Akurati and Samrat Chakrabarti, producer Steve Straka, and cinematographer Thomas Scott Stanton scheduled to attend.
The June 1 and June 5 screenings are on STANDBY. There are no advance tickets available.
---
Kirkland Opening Night | June 1 | Pre-Film Reception: 6:30PM Screening 8:00PM | Kirkland Performance Center
Ticket price includes admission to the screening and a pre-film reception catered by Volterra and featuring a selection of wine and beer provided by Barefoot Wine and Bubbly and Lagunitas Brewing Company.
---
Smith is a 10-year-old boy born in India but growing up in '70s suburban America. His favorite television show is "Happy Days," and he idolizes John Travolta in Saturday Night Fever. All he wants is to taste a little bit of Kentucky Fried Chicken, play with his Star Wars figurines, and spend time with the blonde-haired, blue-eyed girl next door, Amy. But things aren't that easy when he has to deal with his overbearing father pushing his Indian heritage at him from every angle. What if he doesn't want to be a neurosurgeon, or marry a stranger when he turns 22? And there's no doubt that everyone in his class will laugh at him if he brings a yellow gourd to school to carve instead of a pumpkin on Halloween. Smith's strong urge to be one of America's "good ol' boys" begins to create a growing gap between him and his family, until a hunting adventure with Butch, Amy's all-American cowboy of a father, tips things over the edge. This sweet, hilarious coming-of-age story illustrates the fight we all take part in to reconcile where we came from with where we're going.

Director Biography
Originally an actor/comedian from Australia, Frank has produced TV and feature films, including Big Mamma's Boy, which he also wrote and starred in; The Lookalike, starring Justin Long and Jerry O'Connell; and Good Ol' Boy, which is Frank's directorial debut.

Sponsored by Issaquah Press, Inc.
Director:
Frank Lotito
Principal Cast:
Jason Lee, Anjul Nigam, Brighton Sharbino, Hilarie Burton, Roni Akurati
Premier Status:
World Premiere
Country:
USA
Year:
2015
Running Time:
104 minutes
Producer:
Anjul Nigam, Frank Lotito, Steve Straka
Screenplay:
Anjul Nigam, Paul Quinn, Gregory Scott Houghton
Cinematographers:
Thomas Scott Stanton
Editors:
Joshua Rathmell
Music:
Michael Lira
Website:
Official Film Website
Filmography:
Debut Feature Film
Language:
English
Format:
DCP
Show All