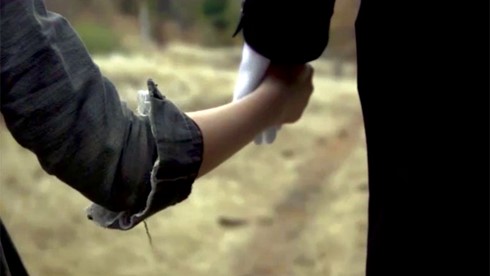 Beware the Slenderman
USA | 2016 | 114 minutes | Irene Taylor Brodsky
An insightful, infuriating, heartbreaking, and gripping true-crime documentary delving into the brutal stabbing of a 12-year-old Wisconsin girl by her best friends, who claimed they were influenced by an internet bogeyman known as "the Slenderman."
A tall, faceless creature hovers in the background of countless photographs posted online. Wearing a black suit and tie, his thin, abnormally long limbs seem to be ready to snatch up children at any second. This character is known as the Slenderman, and he first hit the internet—and in turn, young people's nightmares—via a blog forum in 2009. Since then, the folklore of this mysterious creature has exploded with deranged popularity, his backstory rapidly evolving through social-media games, message boards, blogs, and photo apps like Instagram. Slenderman quickly became the millennial monster-under-the-bed, the digital phantom on every child's screen. And in May 2014, two 12-year-old girls proved that he was more real than anyone wanted to believe—he convinced them to attempt murder. Directed by Academy Award® nominee Irene Brodsky, Beware the Slenderman is a gripping, heartbreaking true-crime documentary that explores what happened one morning in Waukesha, Wisconsin, when two preteen girls stabbed their best friend 19 times before taking off in search of the Slenderman's mansion in the woods.

Director Biography
Emmy and Peabody Award-winning documentary filmmaker Irene Taylor Brodsky has worked a prestigious career with a diverse range of docs that have been featured in major festivals. In 2007 she won the Audience Award and was nominated for the Grand Jury Prize at Sundance with Hear and Now.
Sponsored by CTI BioPharma
Director:
Irene Taylor Brodsky
Country:
USA
Year:
2016
Running Time:
114 minutes
Producer:
Irene Taylor Brodsky, Sophie Harris
Cinematographers:
Nick Midwig
Editors:
Gladys Mae Murphy
Music:
Benoit Charest
Filmography:
Debut Feature Film
Language:
English
Format:
DCP
US Distributor:
HBO
International Sales:
HBO
Show All