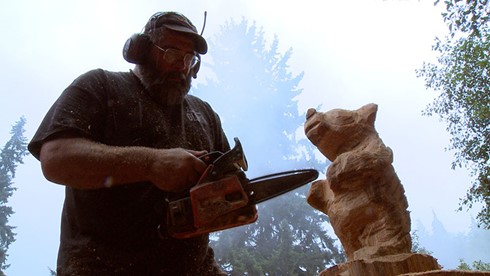 Last Refuge of the Troublemaker
USA | 2015 | 5 minutes | Shannon Snider
In the Pacific Northwest, communities are surrounded by majestic trees, which can become a way of life and essential to their livelihood. Meet Steve Backus, a second-generation woodcarver who is equal parts lumberjack, artist, and troublemaker.
This film is playing as a part of...
Teddy bears to taxis, grandmothers to growing up—these shorts from Seattle have it all.
Director Biography
Shannon Snider is a documentary filmmaker, living in Seattle with Ohio roots. He collaborates often on short projects with his wife and is interested in exploring the rich and unique history of the Pacific Northwest region. His films tend to focus on the role that personalities, institutions and landmarks play in creating and sustaining the idea of community.
Director:
Shannon Snider
Principal Cast:
Steve Backus, Nanette Backus
Country:
USA
Year:
2015
Running Time:
5 minutes
Producer:
Shannon Snider, Stefanie Malone
Screenplay:
Shannon Snider, Stefanie Malone
Cinematographers:
Stefanie Malone
Editors:
Shannon Snider, Stefanie Malone
Music:
Sean Malone
Language:
English
Show All