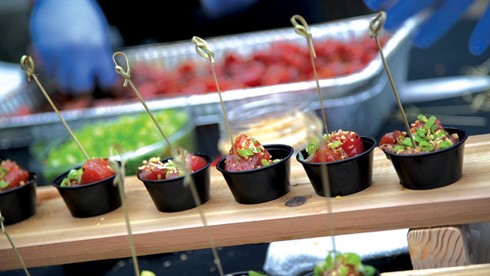 Sam Choy's Poké to the Max
USA | 2016 | 40 minutes | Terrence Jeffrey Santos
Poké is a Hawaiian fish dish known around the world thanks to the "Godfather of Poké," Food Network chef Sam Choy, who was born to a family of cooks and turned his passion into a craze that is about to take over Seattle with a wave of food trucks.
Schedule
June 4, 2016
Ark Lodge Cinemas  
1:00 PM
Date has passed

Director Terrence Santos, Producer Max Heigh scheduled to attend

June 5, 2016
SIFF Cinema Uptown Festival  
5:30 PM
Date has passed

Director Terrence Santos, Producer Max Heigh scheduled to attend

Show All
Poké, meaning to cut or slice, is a salad of raw seafood (often yellowfin tuna or octopus) mixed with Asian seasonings, which has become emblematic of the Hawaiian Islands' multi-ethnic culture. Chef and Food Network star Sam Choy was born into a family of cooks. In fact, the ability to cook was a skill required of Choy and his siblings from a young age. ("If you didn't cook, you didn't eat," remembers Choy's brother.) For Sam, however, this demand would turn first into a passion, then a profession; he would become known as the Godfather of Poké by the many locals who watched his cooking show. Choy's passion for Poké would continue to grow, eventually taking shape as a fleet of food trucks—perhaps the first such trucks in existence, establishing what is now a nationwide trend. Delightful and delectable, Sam Choy's Poké to the Max charts Choy's meteoric rise and the exploding popularity of both Poké and the food-truck phenomenon, just at the moment when Choy's Poké to the Max food trucks have arrived in Seattle, bringing the true taste of Hawaii to the Emerald City.

Director Biography
A Seattle-based independent filmmaker, Terrence Jeffrey Santos has collaborated on multiple projects including narrative, commercial, and especially documentary work. He was a co-producer and cinematographer for the 2013 Best of SIFF documentary The Otherside, which documented the Seattle area's rising hip-hop music industry from 2009 to 2011.

Sponsored by 4Culture, Seattle Office of Arts & Culture, Washington State Arts Commission, National Endowment for the Arts, CityArts, Seattle Weekly
Packaged Films
Harlem On My Plate is a cultural food journey from the great migration to the Harlem Renaissance through today.
Director:
Terrence Jeffrey Santos
Principal Cast:
Sam Choy, Geo Quibuyen, Yuji Okumoto, Max Heigh
Premier Status:
World Premiere
Country:
USA
Year:
2016
Running Time:
40 minutes
Producer:
Max Heigh, Terrence Santos
Screenplay:
Terrence Santos
Cinematographers:
Terrence Santos, Derek Edamura
Editors:
Derek Edamura, Terrence Santos, Darien Brown
Music:
Kore Ionz, Blue Scholars
Filmography:
Debut Feature Film
Language:
English
Format:
DCP
Show All