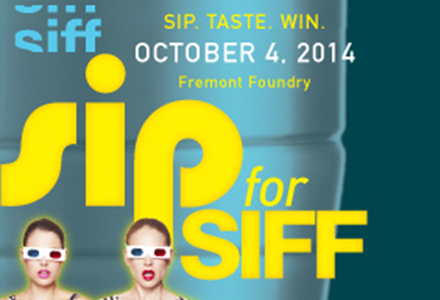 SIP for SIFF
October 4
What do you get when you combine wines from Washington's top vintners, delicacies from the city's best chefs, spirits from Seattle's hometown distilleries, fabulous auction items, and the most exclusive party in town at Fremont Foundry?
Schedule
October 4, 2014
Saturday
7:00 PM
Buy

Sip for SIFF.
Sip. Taste. Win.
7:00pm - 10:00pm
Fremont Foundry
$175 per person
All proceeds benefit SIFF
---
Featured Live Auction Items
Coming Soon!
---
The Restaurants
Aqua by El Gaucho
Lark
Matt's In The Market
Mistral-Kitchen
The Space Needle
Volterra

---
The Wineries
Billy O Wines
Dunham Cellars
O Wines
Sparkman Cellars

---
The Distilleries
Glass Vodka
Westland Distillery

---
SIFF is a 501C3 nonprofit organization, tax ID 91-1489660