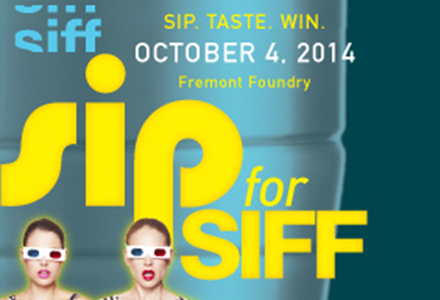 SIP for SIFF
October 4
What do you get when you combine fabulous auction items, wines from Washington's top vintners, delicacies from the city's best chefs, spirits from Seattle's hometown distilleries, and the most exclusive party in town at Fremont Foundry with KEXP's DJ Darek Mazzone?
Schedule
October 4, 2014
Saturday
7:00 PM
Buy

Sip for SIFF.
Sip. Taste. Win.
7:00pm - 10:00pm
Fremont Foundry
$175 per person
All proceeds benefit SIFF
---
Auction Spotlight

Ultimate SIFF Cinema Experience. Enjoy the most intimate of SIFF Cinema experiences at a private screening for up to 100 of your friends in the SIFF Film Center theater. This once-in-a-lifetime opportunity is a chance to enjoy one of your favorite flicks on the big screen. This package is perfect for a birthday celebration, special anniversary, or benefit event, and includes popcorn, soft drinks, and candies!

Escape to France. Bask in the sunshine and idyllic beauty of Southwestern France when you spend a week in this charming, fully-equipped French cottage that sleeps up to four guests. Set in the Dordogne region, the house offers easy access to nearly 50 castles, restaurants and markets, and to the Dordogne River. Your Escape to France includes two, round-trip BusinessElite airfare from Delta Air Lines, Inc.

Experience Perugia. Enjoy seven nights in the heart of Perugia, Italy. Your apartment sleeps six and is within minutes distance of restaurants, shops, museums, historic buildings, and scenic walking tours. Prepare for your Italian getaway with a two-hour Italian Lesson at Percorso Italiano and then jet off in style with round-trip BusinessElite airfare for two from Delta.

Travel Like a Rock Star. Your Alaska MVP Gold status includes unlimited complimentary upgrades to first class for you and a companion, 100% Bonus Miles every time you fly, baggage fee waived for first two checked bags on Alaska, Horizon and Delta, priority boarding on Alaska, Horizon and Delta, top priority for stand-by status, first class check-in privileges, and access to the VIP Lounge.
---
The Restaurants
Aqua by El Gaucho
Collections Cafe
Lark
Matt's In The Market
Mistral-Kitchen
The Space Needle
Volterra

---
The Wineries
Billy O Wines
Cadence Winery
Dunham Cellars
O Wines
Sparkman Cellars

---
The Distilleries
Glass Vodka
Skip Rock Distillers
Westland Distillery
---
The Desserts
---