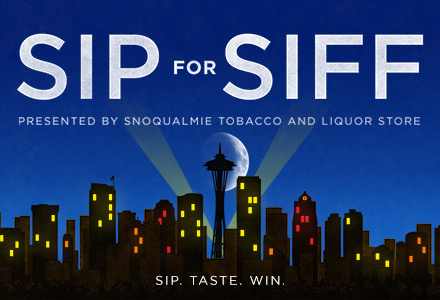 SIP for SIFF presented by Snoqualmie Tobacco and Liquor Store
September 28, 2013
What do you get when you combine wines from Washington's top vintners, delicacies from the city's best chefs, a competition featuring Seattle's finest mixologists, fabulous auction items, and the most exclusive party in town at Chihuly Boathouse?
SIP for SIFF. Seattle's ultimate food and wine experience.
5:30 - 8:30pm
The Chihuly Boathouse
$175 per person
All proceeds benefit SIFF
Preview the Live Auction catalogue
This year, in addition to delicious wine and food from our winery and restaurant partners, we're debuting a live bartender competition, featuring renowned bartenders from four of the city's most innovative cocktail spots. Guests will be invited to sample and vote on each bartender's original premium vermouth-based beverage.
The irresistably biddable silent and live auctions include over 37 gifts, getaways, and baubles and will be hosted by local auctioneer, actor, and excellent-tux-wearer Ian Lindsay.
Event photography and gallery provided by Shelly Oberman.
---
Featured Live Auction Items
Escape to France
Bask in the sunshine and idyllic beauty of southwestern France when you spend a week in this charming, fully equipped French cottage that sleeps up to 4. The cottage is located in Berbiguières, a small, picturesque village in the Dordogne region. With round-trip complimentary airfare from Delta Airlines - including their full range of BusinessElite products and services - and a direct flight to Paris, you'll have the chance to extend your French getaway into a multi-city affair! Bask in the sunshine and idyllic beauty of Southwestern France when you spend a week in this charming, fully equipped French cottage that sleeps up to 4. Set in the Dordogne region about 90 miles east of Bordeaux, the cottage is located in Berbiguières, a small, picturesque village clustered along the walls of a 15th-century chateau. During your stay, you'll have easy access to nearly 50 castles that date from the 100 Years War (1325-1453) and to the Dordogne River for swimming and canoeing. The vineyards of St. Emillion, Montbazillac, and Cahors are within a couple hours drive, and many restaurants and markets are nearby. Delta passengers flying internationally from Seattle may enjoy our BusinessElite service and its full range of premium products for a comfortable, relaxed, and productive in-flight experience. For additional info on Delta BusinessElite please visit www.delta.com.
Experience Perugia, Italy
Immerse yourself in Italian culture while visiting the vibrant town of Perugia, Italy. Jet-set to your Italian adventure with complimentary round trip airfare for two from Delta Air Lines, Inc. With seven nights complimentary stay in an apartment set in the heart of the city, you and up to five guests can easily explore shops, restaurants, museums, historic buildings and scenic walking tours throughout Perugia. Enjoy an authentic Italian meal in the home of The Miozza Family, who split their time between Perugia and Seattle. Also, just miles away from other picturesque Italian cities such as Umbria and Tuscany, you are afforded an opportunity to enjoy the complete Perugia, Italy experience and beyond! Valid from January 1, 2014 to December 31, 2014. Delta passengers flying internationally from Seattle may enjoy our BusinessElite service and its full range of premium products for a comfortable, relaxed, and productive in-flight experience. For additional info on Delta BusinessElite please visit www.delta.com.
Travel Like a Rock Star
Alaska Airlines MVP Gold Card: The Only Way to Travel! MVP Gold Status is reserved for the airline's most valuable customers. Benefits include (but are not limited to) unlimited complimentary upgrades to first class for you and your traveling companion, 100% Bonus Miles (Double Miles!) every time you fly, access to the express security line at Sea-Tac and many other airports, and first class check-in privileges.
Set Visit and Lunch on Lynn Shelton's New Film
Lynn Shelton, a homegrown film director, has become one of the most sought-after directors in Hollywood. On the set of her next local production, you'll visit the set and have lunch with the director, producers, and various crew members.
---
The Restaurants
AQUA by El Gaucho
Seattle's hidden jewel, gorgeous and warmly elegant, AQUA by El Gaucho sparkles at the tip of Pier 70. Executive Chef Steve Cain has created a menu featuring fresh seafood preparations with a hint of nostalgia. AQUA by El Gaucho showcases the dinner-as-theatre philosophy and signature hospitality made famous by veteran Seattle restaurateur Paul Mackay.
Lark
Chef John Sundstrom's Lark is one of the Pacific Northwest's premier, artisan-focused restaurants. Located in Seattle's Capitol Hill neighborhood, Lark's menu features small plates of locally-produced and organic cheese, charcuterie, vegetables, grains, fish, and meats, all prepared with a signature focus on flavor and quality. We work with local artisans to serve the best of each season, bright and intense with summer and spring, rich and heartening in the winter and fall. Website
Matt's in the Market
Offering spectacular views of Elliott Bay, the Olympics, and the Pike Place Market's famous clock through its charming arched windows, Matt's in the Market's intimate setting makes you feel you are part of the ceaseless ebb and flow of the Market. Savoring every morsel of this blissfully delicious food, you realize that here in the heart of Seattle, you have discovered its soul. Website
MistralKitchen
MistralKitchen is the embodiment of the type of restaurant Chef/Owner William Belickis loves to experience himself: A place you can pop into after work for a drink and a snack, but also the first place that comes to mind when your 20th anniversary rolls around. After bringing his original Belltown restaurant, Mistral, up from a humble 40-seat establishment to the top ranks of the national fine dining scene, Chef Belickis opened MistralKitchen to fit every occasion for delicious food and drink.
SkyCity at the Space Needle
Revolutionary dining atop Seattle. Everything here is fresh: The food, the conversation, even the view! Yes, the entire restaurant moves 360 degrees, allowing you to take in each course of the city as you take in each delicious course of your meal. Try the Lunar Orbiter dessert served up since 1962. Just don't lick it!
Volterra
Named after the Tuscan hilltop town where chef Don Curtiss and owner Michelle Quisenberry were married, Volterra features a bold-flavored, Tuscan-inspired menu using the bountiful harvest of the Pacific Northwest. Menu highlights include seasonal Tuscan ingredients, housemade pasta and charcuterie, and extensive gluten-free options. The duo bring the warmth and charm of Tuscany to Seattle's historic Ballard Neighborhood and downtown Kirkland.
---
The Wineries
Billy O Wines
Founded in 2005 by Billy O'Neill, Billy O Wines paired wines by winemaker Eric Dunham of Dunham Cellars and artwork by artist Dale Chihuly to create a unique wine experience. Created out of a desire to give back to the Seattle community in a dynamic way, three Billy O Wines varietals, Mazie Chardonney, Martin Cabernet Sauvignon and Mighty Syrah were made to be gifted, donated or auctioned off to benefit local charities and non-profits.
Dunham Cellars
Using grapes from some of the finest vineyards in the Walla Walla, Yakima and Columbia Valleys, Dunham Cellars has established an award-winning reputation for their wines. When Eric's first vintage, a 1995 Cabernet Sauvignon was released, it was deemed one of the finest wines made in Washington by Wine Enthusiast Magazine. Subsequent vintages and varietals have also earned high marks with both wine writers and consumers. Eric shows his artistic side by creating original artworks for all of Dunham Cellars vineyard designated and special bottlings... more
O Wines
O Wines was established in 2006 in Woodinville, Washington with a mission to fund scholarships for low income, capable young women so they can achieve their greatest potential through education. From 2006-2012 more than $175,000 has been raised for scholarship grants. Most of the scholarship recipients were the first members of their families to attend college... more
Sparkman Cellars
We are privileged to have enduring relationships with the Pacific Northwest's finest growers and winemakers. With all that support, and even more from our parents, we started our little winery in 2004 in Woodinville, Washington. Our style produces artisan handcrafted award-winning wines, some of them highly sought after. Contributing to our community and to causes that resonate with our family is another way that the wine world helps make our lives rich. Our intention is to make wines that are considered among the finest available, and that will hopefully find their way onto your table... more
---
The Bars and Mixologists
Jamie Boudreau, Canon
Owner of Canon: Whiskey and Bitters Emporium, home to the world's largest spirit collection.

 Favorite Film: Casablanca
Elmer Dulla, Bar Sajor
"I was born and raised in the village of Santa Rita which is on the beautiful island of Guam. After graduating from high school, I moved to Washington and attended school at Seattle University. I have been in the food and restaurant industry since 2002. I was introduced to the craft cocktail culture back in 2006 at 22 Doors on Capital Hill. I have a really cool dog named Truffles and I love people." Favorite Film: The Kill Bill series

Dan'l Mershon, Mistral Kitchen
Prior to bartending, Dan'l worked as a barista and commercial photographer. He fell into the industry by happenstance when MistralKitchen chef and owner William Belickis got to know him via the restaurant's neighboring coffee shop; so impressed was William with Dan'l's skill and hospitality behind the coffee bar that he offered Dan'l a job behind the bar at MistralKitchen. Dan'l has learned the trade on the job, rising through the ranks to become one of the restaurant's lead bartenders. Today, Dan'l's creations can be found peppered throughout the drink list at MistralKitchen. Favorite film: Brazil. "It's is essentially Fellini plus Terry Gilliam-how can you go wrong with that?"
Jim Romdall, Vessel
Jim grew up in Seattle and studied film at the University of Washington. After bartending in Seattle and Los Angeles, he joined Vessel 5th Avenue in 2006, becoming manager in 2008 and co-owner in 2011. Jim earned national attention when he was awarded the Rising Star Award for Mixology in 2009 by StarChefs based in Manhattan. He is a judge at the San Francisco World Spirits Competition, the largest and most prestigious international competition of its kind.Jim is one of the founders of the Washington Bartenders Guild, an organization that promotes education, professionalism and "raising the bar" behind the bar.
Jim is a sought-after consultant and speaker, as well as a guest bartender at some of the finest establishments across North America. He is passionate about staying on the forefront of the evolving cocktail landscape. More importantly, Jim's ambitions are matched by the amount of fun he has on the job.
"My favorite film is Star Wars, just like every other boy who was born within a few years of me :) "
---
SIFF is a 501C3 nonprofit organization, tax ID 91-1489660