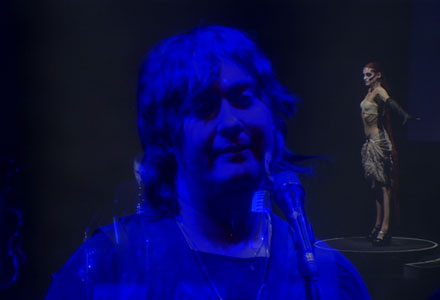 Turning
March 22 - 24, 2013
Denmark | 2011 | 76 Minutes | Charles Atlas
This music documentary explores the heart of the performance around the critically acclaimed European tour by singer Antony Hegarty (Antony and the Johnsons) and video artist Charles Atlas.
Originally mounted at the 2004 Whitney Biennial, Turning is a synthesis of Antony's music and Atlas' video portraiture described as "a sensual and moving exploration of femininity and the basic desire of belonging". As Antony croons gorgeously in the foreground, thirteen remarkable women rotate slowly on a platform, their features blown up and transfigured into montages on a screen behind the band.
Antony's music and performance has always explored and challenged traditional perceptions of identity, and rather than simply chronicling a concert, Turning emphasizes the women. Through candid interviews we get to know a woman aspiring to motherhood, a Jamaican-born transsexual, a retired mathmetician, and the wildly painted Kembra Pfahler, lead singer of the band The Voluptuous Horror of Karen Black. As one performer says, "Turning represents freedom from society and from gender."
Director:
Charles Atlas
Principal Cast:
Antony Hegarty, Johanna Constantine, Catrina Delapena, Honey Dijon, Eliza Douglas, Connie Fleming, Joey Gabriel, Joie Iacono, Stacey Mark, Nomi, Kembra Pfahler, Morisane Sunny Shiroma, Julia Yasuda
Country:
Denmark, USA
Year:
2011
Running Time:
76 Minutes
Music:
Antony and the Johnsons
Website:
http://www.turningfilm.com/
Language:
English
Show All