Beyond Zero: 1914-1918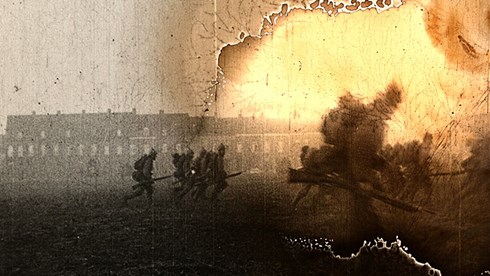 An exclusive archival look at the fire and fury of WWI made up of astonishing and previously unseen 35mm nitrate footage from the Great War and featuring music performed by the Kronos Quartet as composed by Serbian composer Aleksandra Vrebalov. Preceded by Back To The Soil, 18 minutes
Saturday, May 16, 2015
Purchased Tickets
Limited Availability
On Standby
Matinee
Sunday, May 17, 2015
Purchased Tickets
Limited Availability
On Standby
Matinee
Sourcing original 35mm nitrate footage shot during the first World War, filmmaker Bill Morrison pieces together a unique visual exploration from footage that has never been viewed by modern audiences, and will never be seen again outside of this film. Serbian composer Aleksandra Vrebalov created the score, commissioned by the famed San Francisco string combo the Kronos Quartet and inspired by anti-war writings, music, and art created during and immediately after WWI. "I intended to juxtapose historical accounts of war with the finest expressions of spirit and creativity occurring at the same time," Vrebalov said, his score using speech recordings, military commands, air-raid sirens, and musical excerpts from Bartók, Huelsenbeck, and Byzantine hymns. Director Morrison (2002's Decasia), who has built much of his experimental and prolific filmmaking career combining rare archival material with contemporary music, has made brand new HD scans of these deteriorating, 100-year-old films. This footage—training exercises, parades, troop movements—is not only "a record of war as a series of documents passed along to us like a message in a bottle," as Morrison explains, but also a metaphor of film's own materiality.
Preceded By:
Back to the Soil
USA 2014, 18 minutes, Director: Bill Morrison
In 1924, the Soviet government offered parcels of land in the Ukraine, Belarus, and Crimea to former merchants, whose work had been outlowed under Communist rule. By 1938, more than 250,000 Soviet Jews would settle in 215 colonies, across 2.5 million acres of land.


Director Biography
Combining rare archival footage with contemporary music, Bill Morrison's films are not only unique and enjoyable, but important to the restoration of film. His work is currently being honored with a mid-career retrospective at New York's Museum of Modern Art. Morrison has collaborated with composers such as Philip Glass, Julia Wolfe, Maya Beiser, and John Adams.


Director:

Bill Morrison

Principal Cast:

Kronos Quartet: David Harrington, John Sherba, Hank Dutt, Sunny Yang

Country:

USA

Year:

2014

Running Time:

41 minutes

Producer:

Janet Cowperthwaite

Screenplay:

Bill Morrison, Aleksandra Vrebalov, David Harrington

Editors:

Bill Morrison

Music:

Aleksandra Vrebalov

Website:

Official Film Website

Filmography:

The Great Flood (Doc, 2012), Tributes: Pulse (Doc, 2011), Spark of Being (Doc, 2010), Decasia (Doc, 2002)

Language:

No Dialogue

Format:

DCP