Cave of the Spider Women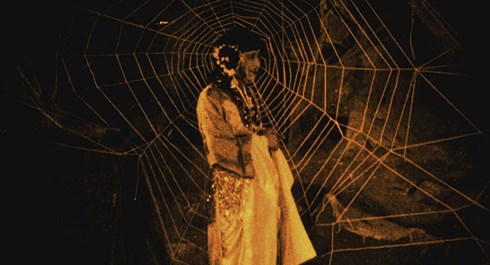 In this Chinese silent, a Buddhist monk accompanied by a bumbling convoy is sent on a mission from Buddha to go west. They are tested when they come upon a mysterious cave of beautiful women, who are actually flesh-eating spider spirits in disguise. Plays with Cave of the Silken Web. Live accompaniment by Donald Sosin.
Wednesday, June 3, 2015
Purchased Tickets
Limited Availability
On Standby
Matinee
This screening is on STANDBY. There are no advance tickets available.
---
A Buddhist monk, Xuanzang, is sent on a mission from Buddha to travel west and bring back special texts. On his journey, he is accompanied by several characters, Pigsy, Sandy, Monkey, and the Dragon Prince, who are ordered to go with him to atone for their past sins. The journey is treacherous and challenging, and Xuanzang must constantly avoid evil demons who try to eat him and his party, apparently in the hopes of gaining mortality. Their strength and courage are really tested when they come upon a mysterious cave where seven beautiful women live. The women, secretly flesh-eating spider spirits in disguise, seduce and capture the convoy, leaving Xuanzang scrambling to escape and finish his Buddhist mission. Recently found in the National Library of Norway, Cave of the Spider Women, also known as Cave of the Silken Web, kickstarted several re-imaginings of this beloved Chinese story from the Ming Dynasty fable "Journey to the West," and is full of elaborate costumes, beautiful women, and suspenseful action.

Director Biography
Early Chinese film director Dan Duyu nurtured his artistic ability by attending the Shanghai School of Fine Arts. An interest in the art of motion pictures led him to develop the Shanghai Shadow Play Company in 1920, becoming China's second movie production studio. Duyu's first film, The Sea Oath (1921), was a western-inspired love story and an excellent first effort, now lost. Dan Duyu went on to make several films into the early 50s.

Sponsored by Hong Kong Economic and Trade Office, San Francisco, Aegis Gardens
Original Language Title:

Pan Si Dong

Director:

Dan Duyu

Principal Cast:

Yin Mingzhu, He Rongzhu, Jiang Meikang, Zhou Hongquan, Wu Wenchao

Country:

China

Year:

1927

Running Time:

60 minutes

Screenplay:

Guan Ji'an

Cinematographers:

Dan Ganting

Filmography:

Playboy (1952), Panther-Head Hero Lam Chong (1950), The Pangs of Love (1946), Modern Spider Cave (1938), The Graduate (1936), An Innocent Girl (1933), South Seas Beauty (1932), Stranger in the Old House (1931), The Spider Cave II (1929), Yang Guifei (1927), Didi (Younger Brother) (1924), The Sea (1922)

Language:

No Dialogue

Format:

DVD