Contemporary Indigenous Cinema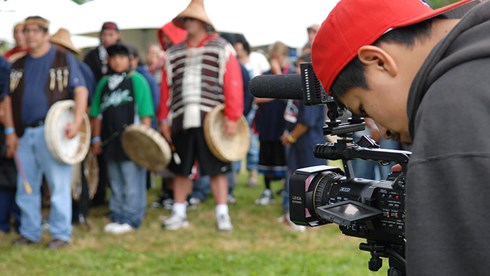 May 30, 2015
Visiting and local Indigenous filmmakers from the US and Canada discuss the contemporary trends and challenges of creating a vibrant media community.
Saturday, May 30, 2015
Purchased Tickets
Limited Availability
On Standby
Matinee
Panelists expected in attendance:
Cliff Curtis is an actor, best known for his film work in The Majestic, Collateral Damage, Training Day, Whale Rider, and The Last Knights with Morgan Freeman. Despite his demanding acting schedule, Mr. Curtis maintains strong ties to his Māori Cultural identity, even though he is often mistaken for Arab, Latino, or Mexican Ethnicity. Growing up in Rotorua, Curtis learned the traditional Māori fighting art of mau raku and performed in Māori kappa haka song and dance groups. He also appeared as a break-dancer and in rock 'n' roll dance competitions.
Maya Solis is a central team member for the Sundance Institute's Native American and Indigenous Program. The program scouts for and identifies Native American and Indigenous artists, bringing them through the mechanisms of support to get their work made and shown, then bringing the filmmakers and their work back to Native lands. Solis has a special focus on the preservation of these Native films. Prior to joining the Sundance Institute, she held archivist positions with the National NAGPRA Program, the Southern Ute Cultural Center & Museum, the Academy Film Archive, and the UCLA Cataloging and Metadata Center. She is a graduate of the University of California - Los Angeles (UCLA) with degrees in History and Film. She also received her Master of Arts degree from UCLA's Moving Image Archive Studies program.
Angelica Macklin is a filmmaker and P.h.D. student in the department of Gender, Women, and Sexuality Studies at the University of Washington. Her research focuses on feminist digital film production, processes, practices, and methods, as sites of power, resistance, and pedagogy. Angelica is co-director of Masizakhe: Building Each Other a film highlighting cultural activists in the Nelson Mandela Metro of the Eastern Cape of South Africa, and is co-director of De Baixo Para Cima, a feature documentary on the life work of leading activists in the town of Araçuaí, Brazil. She has been part of the Women Who Rock: Making Scenes, Building Communities Collective since 2011: organizing the annual unConference and Film Festival, building the Women Who Rock Archive, documenting local music scenes, and teaching media production.
Kahlil Hudson (Tlingit) is a Native Alaskan director and cinematographer of commercials, feature films and television and is a partner at Finback Films, a creative content agency. His client list includes: History Channel, MTV, Showtime, Yahoo!, Nikon, Interscope Records, MSNBC, Starz, Ram Trucks, Becks, HBO, and Nike. Kahlil was named one of Paste Magazine's "15 Best New Filmmakers of 2012" for his SXSW award-winning film LOW & CLEAR, which went on to play at True/False, Hot Docs, RIDM, and IDFA amongst other international film festivals. Kahlil photographed the SXSW award-winning doc KUMARE and the American Indian Film Festival winner, THE THICK DARK FOG. He is currently working with director Sarah Del Seronde on METAL ROAD, a documentary about Navajo railroad workers and is directing YOUNG MEN & FIRE, a film about a wildland firefighter crew working in the Pacific Northwest. Kahlil holds an MFA in Film Directing from UCLA and lives in Santa Fe, New Mexico where he is an Asst. Professor of Cinematic Arts at the Institute of American Indian Arts (IAIA).
Panel Moderator:
Tracy Rector earned her Masters in Education from Antioch University's First Peoples Program. She specialized in Native American Studies, traditional plant medicine and documentary film. As the co-producer of the award-winning film Teachings of the Tree People, producer of March Point and director of Unreserved Tracy has developed an awareness and sensitivity to the power of media and film as a modern storytelling tool. Her work has been featured on Independent Lens, Cannes Film Festival, ImagineNative, National Geographic's All Roads Film Project and in the Smithsonian's Museum of the American Indian. As a Native Education specialist, Tracy offers unique insight to her projects. Her vision is to bring traditional and contemporary education together on a foundation based in environmental stewardship. She has worked as a consultant with the Seattle Art Museum as an education specialist, as a Native Naturalist for the Olympic Sculpture Park and in planning for the new expanded Native American wing of the Seattle Art Museum and the international exhibition S'abadeb-The Gifts: Pacific Coast Salish Art and Artists. Tracy also developed curriculum for IslandWood, an environmental education center. In 2009 Tracy received the National Association for Media Literacy award for outstanding contributions made in the field of media education (previously awarded to Jon Stewart and Bill Moyers). She is a recent Sundance Institute Lab Fellow and is the recipient of the Horace Mann Award for her work in utilizing media for social justice. Tracy was raised in Seattle and Albuquerque, both homes have inspired her artistic and cultural vision. She currently works and lives in Seattle with her two boys. Tracy is the Co-founder of Longhouse Media.