Que Viva Mexico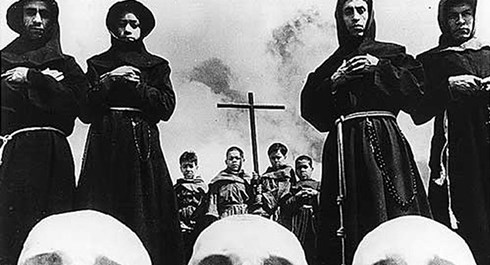 Culled together in 1979 based on the director's own storyboards and outlines, Sergei Eisenstein's unfinished 1932 masterwork—the focus of fellow SIFF 2015 film Eisenstein in Guanajuato—chronicles Mexico's history and culture through a series of striking, standalone episodes.
Sunday, June 7, 2015
Purchased Tickets
Limited Availability
On Standby
Matinee
From December 1930 until February 1932, Sergei Eisenstein was shooting in Mexico with two fellow Soviets, cinematographer Eduard Tisse and director Grigori Alexandrov. They shot highly stylized documentary footage about the people and volatile social climate of Mexico during that time. That footage was intended to be an artistically important and creatively framed blend of Mexico's geographical, ethnological, cultural, and historical diversity. When Upton Sinclair, who funded the project, pulled out financial support, Eisenstein was unable to make his dream film. Eisenstein died in 1948, in USSR at the age of 50. In 1979, referring to Eisenstein's extensive notes and sketches, Grigori Alexandrov assembled the most definitive version of the film, as close to Eisenstein's vision as one would ever be likely to see. Originally, Eisenstein meant for his film to be comprised of six episodes, each chronicling a different epoch of Mexico. Alexandrov's version divides the film into four sections: Sandunga covers the Tehuantepec jungles and its inhabitants; Manguei is about a peasant and his bride; Fiesta devotes itself to bullfighting and romance; and Soldadera depicts the 1910 Mexican revolution through frescoes. When describing the structure for the film he had in mind, Eisenstein used the metaphor of the Mexican serape: "No plot, no whole story could run through this serape without being false or artificial." The result is a pictorial impressionism of the highest achievement.

Director Biography
Master of early cinema, Sergei Eisenstein was a Soviet Russian filmmaker. His father built ships, and Eisenstein began training in architecture and engineering, which then inspired his filmmaking. Amongst several other film landmarks, he pioneered the montage, random images presented in an order that would provide the largest emotional impact. Eisenstein is particularly noted for Strike (1925), Battleship Potemkin (1925), and Ivan The Terrible (1944).


Original Language Title:

Da zdravstvuyet Meksika!

Director:

Sergei Eisenstein

Principal Cast:

Sergey Bondarchuk, Grigori Aleksandrov

Country:

Soviet Union

Year:

1979

Running Time:

90 minutes

Producer:

Kate Crane Gartz, S. Hillkowitz, Otto Kahn, Hunter S. Kimbrough, Mary Craig Sinclair, Upton Sinclair

Screenplay:

Grigori Aleksandrov, Sergei Eisenstein

Cinematographers:

Eduard Tisse

Editors:

Grigori Aleksandrov, Esfir Tobak

Website:

Official Film Website

Filmography:

Ivan the Terrible, Part Two: The Boyar's Plot (1958), Ivan the Terrible, Part One (1944), Alexander Nevsky (1938), Old and New (1929), Ten Days That Shook the World (1928), Battleship Potemkin (1925), Strike (1925)

Language:

Russian

Has Subtitles:

Yes

Format:

DVD