Sherlock Holmes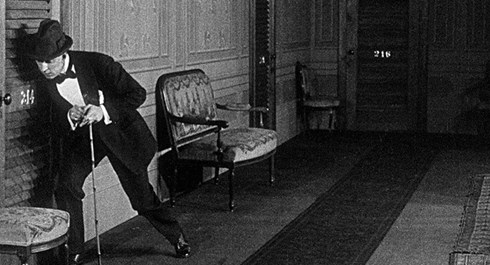 One of the earliest film appearances of Sir Arthur Conan Doyle's detective, Berthelet's silent film stars William Gillette as the titular character and is based on a trio of short stories. Thought to have been lost, the film was restored from a nitrate-negative by the SF Silent Film Festival and Cinémathèque Française.
Saturday, June 6, 2015
Purchased Tickets
Limited Availability
On Standby
Matinee
Film preservationists estimate that anywhere from 75 to 90% of all silent films (those made before 1929) are lost forever. Hope springs eternal, however, that somewhere, in some dark vault or archive, a hidden gem lies awaiting to be rediscovered. Late last year, archivists at the Cinémathèque Française in cooperation with the San Francisco Silent Film Festival did just that, announcing they had found a copy of the 1916 version of Sherlock Holmes, one of the earliest film adaptations of Sir Arthur Conan Doyle's iconic detective tales. Starring William Gillette as Holmes, who played the role over 1,300 times on stage, and based on the actor's own 1899 theatrical play, the film takes inspiration from three of the most popular Holmes' short stories—"A Scandal in Bohemia," "The Final Problem," "The Copper Beeches" —as well as the novel "A Study in Scarlet," Sherlock's first appearance concerns a man with connections to the Royal Family who hires Holmes to retrieve a series of letters now in the possession of Alice Faulkner. But as the investigation progresses, Holmes uncovers a far darker plot than he first imagined, one masterminded by Professor Moriarty. A must-see event for cinephiles, Sherlock Holmes is quite literally a legendary film with nearly a century past since it was last seen.

Director Biography
Arthur Berthelet was an American stage and film director from 1879-1949. He directed several films between 1915 and 1925, including The Chaperon (1916), The Golden Idiot (1917), and Enemies of Youth (1925).


Director:

Arthur Berthelet

Principal Cast:

William Gillette, Edward Fielding, Marjorie Kay, Ernest Maupain

Country:

USA

Year:

1916

Running Time:

116 minutes

Screenplay:

H. S. Sheldon

Filmography:

Enemies of Youth (1925), Penny of Top Hill Trail (1921), Men Who Have Made Love to Me (1918), The Havoc (1916), The Chaperon (1916)

Language:

No Dialogue

Format:

DCP