The Son of the Sheik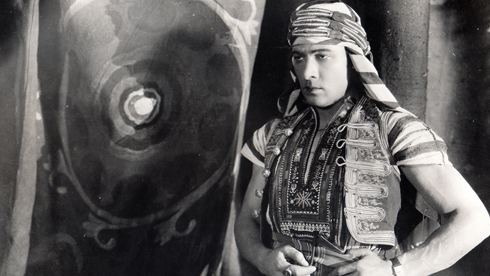 This 1926 silent adventure film tells of the young and handsome son of Sheik Ahmed Ben Hassan (both played by 1920s heartthrob Rudolph Valentino) and his romance with a beautiful dancer who eventually betrays him. With live score performed by Alloy Orchestra.
Tuesday, May 19, 2015
Purchased Tickets
Limited Availability
On Standby
Matinee
Tickets or Platinum and Platinum Plus Passes are required for admission.
---
This 1926 silent film revels in its moonlit rendezvous, knife fights, kidnapping, horseback racing, betrayal, and love. The Son of the Sheik is one of the most thrilling adventures and romances of its time, featuring heartthrob Rudolph Valentino in his final, and what some call his best, starring role. Valentino plays both the Sheik, and his son, Ahmed, the latter of which falls in love with a beautiful dancer Yasmin, played with soft sensuality by Vilma Banky. When he is kidnapped and held for ransom after one of their midnight trysts, Ahmed believes that she was the one to betray him, and seeks revenge. Every element of this film excels in craftsmanship and beauty, from the lighting to the desert location, from the glorious costuming to the passionate chemistry between Valentino and Banky. Featuring an all new score played live by the notable Alloy Orchestra that uses instruments native to the Middle East, and a beautiful restoration from Box 5 distribution company, The Son of the Sheik is a remarkable triumph of filmmaking and is not to be missed on the big screen.

Director Biography
Born in France but based in Los Angeles, George Fitzmaurice was a director in the early days of motion pictures, starting off before that as set designer for stage plays. He was proficient in assisting with the transition of Broadway play actors to cinema acting during World War I. Fitzmaurice was well –known for his romance dramas, Son of the Sheik being perhaps his most famous film.

Sponsored by KIXI 880 AM, MarQueen Hotel, Seattle Composers Alliance
Director:

George Fitzmaurice

Principal Cast:

Rudolph Valentino, Vilma Banky, George Fawcett, Montagu Love, Agnes Ayres

Country:

USA

Year:

1926

Running Time:

68 minutes

Producer:

George Fitzmaurice, John W. Considine Jr.

Screenplay:

Frances Marion, Fred de Gresac

Cinematographers:

George Barnes

Music:

Artur Guttmann, Jack Ward

Filmography:

Adventure in Diamonds (1940), Vacation from Love (1938), Arsène Lupin Returns (1938), Suzy (1936), Mata Hari ([1931), Raffles (1930), Lilac Time (1928), The Dark Angel (1925), To Have and to Hold (1922), Witness for the Defense (1919), The Avalanche (1919), The Hunting of the Hawk (1917), Kick In (1917)

Language:

No Dialogue

Format:

DCP